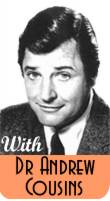 AC: Jayne, I think that it's probably fair to say that the average person in Britain isn't even aware that the BBC makes films. How are you trying to combat that image problem?
JD: Well I think that certainly we don't have as high a profile as we could have. One problem we've had up until now is that we've only had a modest budget that had to cover all of our production and publicity costs. The other is that we've been making really dreadful films.
You actually admit that?
Oh yes. Really crappy. I mean take 'Face' for example. A Robert Carlyle film about a gang of armed robbers sounds good on paper. But it had this stupid subplot about left wing politics that could have come straight out of a Ken Loach film. It was absolute balls really.
So what are…
And as for 'Regeneration' — what were we thinking? A film about poets in the first world war. Who on earth did we think was going to want to watch that?
Well it's an area some people might have had an interest in.
Yes. English teachers. Have you actually met any English teachers?
Erm, not since I left school.
Most of them can't even read you know. They aren't exactly a major world market in terms of cinema.
So what changes are you making at BBC Films?
Well the first change we're making is to exploit our own potential here at the BBC.
What do you mean by "potential"?
The BBC has a huge back-catalogue of programme material. It's one of the richest television archives in the world. What we have started doing is sifting through that archive to see if any of our own products could be exploited in a film format.
Do you mean films based on old television series?
That's exactly right.
But surely some would argue that British cinema is already too tied in to television and that the only way it's going to develop is to create it's own distinct identity. They would see making films out of television series as a majorly retrograde step.
I suppose they'd be the same people who said that a fourth weekly episode of 'Eastenders' would be a mistake. British film makers all have a giant chip on their shoulders because most of them really want to be in America making big budget blockbusters. But they can't so instead they all complain that we make films that look like television programmes. Actually the only way that most of them can make a living is to work in television anyway so they're rather biting the hand that feeds them. Besides which I take that as a compliment because I would argue that the reason that British films look like television is because much of our contemporary drama is heavily influenced by cinema in terms of it's visual style.
So what sort of programme are you hoping to exploit?
'Dixon of Dock Green — The Motion Picture' is probably going to be our first production of the New Year. It's a very modern adaptation of the original. Dixon is now very much a policeman of the twenty-first century. He's also much younger then in the series. Jude Law has signed up to play him. We're very excited about it here.
Surely the world hardly needs another film about the police does it?
They're very popular though. As 'All Creatures Great and Small — The Animated Movie' should be. Children will lap up the furry animals and adult audiences will engage with the story. It's a win-win situation. It's very topical too. There's a foot and mouth outbreak and everything…
That sounds… interesting. One other title I've heard being mentioned before…
Oh God.
What?
You're going to ask me about 'Doctor Who: The Movie' aren't you?
Well I thought I might.
Every bloody interview works around to it at some point. Haven't you lot got any imagination?
So you are working on a film version then?
Yes. Yes. Yes. It's very early days but we are working on one.
Can you drop any hints as to what shape it's taking?
The problem with it is that we have to get it right. Science fiction is never cheap. Plus we have to make sure that it's going to appeal to as wide an audience as possible. After all Doctor Who fans are a strange lot. I met some once. They smelt very faintly of wee.
So I take it we can scotch the rumours that David Hasselhoff would be playing the Doctor?
Yes you can. We need somebody who is very British, yet who also has a very mainstream appeal. It's been a tricky thing to pull off but I think we've finally cracked it.
Any clues?
Well I think it's safe to announce it. He signed his contract yesterday. It's Ainsley Harriot.
The TV chef?
Yes. Brilliant isn't it? He already has a large fan base behind him. Mainly middle-aged, menopausal women. I think he'll be a big success. He really has that larger then life personality that a really good Doctor needs.
Yes but can he act?
I don't think we need to concern ourselves with the smaller details at this stage, do you?
Lets move on. Do you encourage new writers at BBC Films?
Yes we do. New writers are the lifeblood of the industry and we do everything we can to encourage them. We do that mainly through our BBC Talent initiative.
And how does that work?
We get them to write an episode of 'Doctors'.
You get them to write an episode of a cheap daytime soap? It hardly seems like a great training ground to me.
But it's a cheap one. I think that's the most important thing.
But writing a screenplay is a totally different discipline to a twenty-five minute television episode.
Look they're both made up of words written on bits of paper. How different can it be?
Well the structure for a start.
How can the structure of the paper be different? They're both made of trees aren't they? I don't think you've fully thought this argument through.
I meant the structure of the script.
Well as long as they're both written in English I can't see how that would be true.
I give up. Jayne Dyvine, thank you.