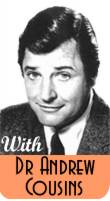 AC: Carrie Fisher once said of you, "He may be a bastard but he's the only person I'm letting look inside my head". There seems to be something of a dichotomy about the way that your clients view you. Would you say that's true?
AA: That's probably correct. In many ways I am the archetypal "man they love to hate". You see, by the end of the first session I know them better then they know themselves. To many people that's quite challenging. They see it as a loss of control. Human beings by default like to be in control of their own destiny. Some people are threatened by it initially but as we work through their problems they realise that in fact the threat only exists in their own head. I'm not worried by it though. People are often intimidated by psychiatrists.
AC: But I suppose that it could be said that, conversely, you in some way enjoy that feeling of power your job gives you?
AA: Interesting...
AC: What?
AA: Nothing. You're right, of course. But then it could also be argued that a traffic warden enjoys the power that the position gives them. Lord knows there's got to be some reason why they do it.
AC: Anyway moving on to the study... Actually, when I asked that question, you said "interesting". What was interesting?
AA: Control is very important to you isn't it?
AC: Er, it... No.
AA: Did your mother walk out on your family when you were young?
AC: No she did not!
AA: Were you breast-fed as a baby?
AC: Er, yes. I... Probably. I'm not… Anyway, this film study you've done...
AA: I've been fascinated for a long time about the effect that film has on us. For example there's been a great deal of debate about the influence of film violence on our behaviour. I wanted to do some proper research into the whole area — not just about violence either.
AC: Let's start with violence. How do you measure the effects of film violence on a person?
AA: Well there are various tests that we can perform. One experiment involved us locking a test panel into a small, airless room and making them watch violent films continuously for three days.
AC: And how did that affect them?
AA: Well when we released them they were really quite angry. Mainly because they hadn't eaten for three days. After we fed them they calmed down considerably. The results were inconclusive on that one.
Another experiment we tried was to gauge how films make us feel. For this we took a different test panel and we showed them Sylvester Stallone's entire back catalogue. We then had the panel fill in a series of questionnaires to try and measure their emotional state afterwards.
AC: And what were those like?
AA: We found that actually they varied a great deal. Some felt anger that Stallone had cheapened the 'Rocky' films with a succession of increasingly poor sequels. Others expressed disbelief that he was still getting work after we showed them the remake of 'Get Carter'. One woman even displayed suicidal tendencies. She said she'd actually contemplated ending her life while watching 'Stop! Or My Mom Will Shoot!'
AC: We hear a great deal about imitative behaviour with regard to film. The tabloids seem to love the idea that people are going to copy what they see portrayed on screen. Did you find any evidence for that?
AA: Well no, not really. We found that people liked the idea of imitating behaviour on screen but that in real life they would never contemplate doing it. For example, a lot of men expressed the desire to be as irresistible to women as James Bond but realised that in actuality there was little chance of that happening. Actually, Peter Stringfellow did seem to have particular problems grasping that concept, now that I come to think about it.
AC: So do you believe that the tabloid hysteria about cinema violence is justified?
AA: What our study showed is that people get all sorts of things out of film. People can see widely different things in the same movie. The serial killer Jeffrey Dahmer was obsessed with the scene in 'Return of the Jedi' where Luke Skywalker is zapped by the Emperor. In many ways the people who are calling for tighter censorship are calling for all films to be banned because there's no real way of telling what will appeal to a disturbed mind. It might be 'Dawn of the Dead' or it might be as innocuous as 'Pokemon: The Movie'. God knows that nearly drove me to murder.
AC: You mentioned that you'd looked at more then just cinema violence.
AA: That's right. We wanted to look at the broader picture. We found that it can have many positive benefits. One of my patients cured his depression by watching the more recent films of Francis Ford Coppola.
AC: How did that cure his depression?
AA: Because he realised that no matter how low things got in his life they could never possibly be as bad as whatever drove Francis Coppola to make 'Jack'. However we also discovered that film can lead us to have many false expectations.
AC: In what way?
AA: Well in our study many people expressed the view that they had found their early sexual experiences to be "disappointing". There were many reasons for this but chief among them was that they'd expected those experiences to be accompanied by loud saxophone music.
AC: Er, did many people express that view?
AA: Well my wife Janice certainly did. In actual fact I had to learn to play the saxophone before… Erm, anyway that's not the point. The point is that our view of the world is in some way coloured by what we see on screen.
AC: Yes but most people who go to see, say 'Jurassic Park' aren't going to be afraid of being eaten by a dinosaur on the way home. Are they?
AA: Apparently, Elvis Presley believed he was being stalked by a tyrannosaur. I blame the drugs myself.
AC: Yes. He'd also died twenty years before the film ever came out.
AA: I have a client who'd take issue on you with that.
AC: I take it that you're treating this person because they have a few mental problems?
AA: Yes. He's clinically insane.
AC: So in other words he's mad?
AA: Fascinating. You're really challenged by the idea that he could be right aren't you?
AC: Oh God, don't start that again. No, I'm not because he's obviously a bloody loony.
AA: But is he sane and we're all mad?
AC: Oh good grief. Dr Arbuthnott, thank you.
AA: Are you sure you wouldn't like to book some sessions with me?
AC: No thank you.
Dr Arnold Arbuthnott's study of cinematic influence on real-life behaviour entitled, 'It's Just A Bloody Film' is published later this month.