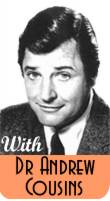 AC: Sebastian, they say that advertising has the power to sell anything to anybody. Is that true?
SK: Well, by and large. I'd say that there isn't much that we couldn't create a successful campaign for. It's mainly all about image.
AC: What do you mean by that?
SK: Everything has an image. I have one and so do you. I project an image of success. People look at me and they say "yes".
AC: And what would you say my image was?
SK: You project a very different image to me. That's the crucial difference.
AC: Yes but what is it?
SK: It's quite wide. Quite a wide difference.
AC: Are you saying that I'm less successful then you?
SK: Well, er, how many houses have you got?
AC: Just the one. Actually it's quite small. And a bit crumbly at the edges.
SK: I've got four.
AC: Let's move on. It seems to me that advertising has changed in recent years. Has that been your experience?
SK: Oh absolutely. These days marketing is highly focussed and slick. If you look back at adverts around a decade ago then you'd be amazed at the difference. Also we've got new media to exploit. The internet really will transform advertising. The problem at the moment is trying to get people switched on to it. The whole industry has changed. We create campaigns that are much more direct then ever before.
AC: I'm not really sure what you mean by "direct".
SK: Well basically it means the adverts are more upfront.
AC: Right I see. Erm, actually no. No, I don't.
SK: Probably the easiest way to illustrate what I'm talking about is to show you. This is the script from an ad that we're currently working on.
INT: Supermarket. Day.
NIGELINA and PORTIA are in the feminine hygiene aisle. They are both holding different brands of sanitary towel.
NIGELINA
These are absorbent.
PORTIA
But these are more comfortable.
NIGELINA
Absorbent!
PORTIA
Comfort!
They are interrupted by COURTNEY — a supermarket shelf replenishment operative. She is holding a packet of Supasorb.
COURTNEY
Here slap one of these on your fanny! They absorb womb linings really well AND they're comfortable to wear!
NIGELINA/PORTIA
Wow! Supasorb!
COURTNEY
And the double-sided tape really anchors it to your knickers. No more slippage!
VOICE-OVER
New Supasorb. Only Dracula sucks up blood better.
SK: So what do you think? Amanda Burton is going to play Portia.
AC: It. Er, yes. Direct.
SK: And did you notice how we worked in the reference to Dracula? That's a very important tool that we use. Pop-culture references are very popular at the moment. The idea is to try and link the product with something that the public already have an image of in their minds. As I said, image is everything.
AC: Isn't it a bit offensive though? Not to mention graphic.
SK: Yes but people like that these days. They don't want to be soft-soaped. Remember the advert for toilet paper, "as recommended by arseholes"? That was one of ours.
AC: One of your current projects is the campaign for the remake of 'Planet of the Apes'. How is that going?
SK: In general it's going very well. There have been one or two small hitches but nothing major.
AC: What hitches were those?
SK: Well one thing that we always do is put up billboard posters all over the country. Unfortunately there was a printing error and 20,000 posters were erected advertising a film called 'Planet of the Grapes'. We had them all taken down and replaced with the proper version so there was no harm done. Oh and a guy did get shot.
AC: Shot?
SK: Yes. It was silly really. We'd come up with this wheeze that we'd get actors to dress as gorillas and run around some public places. Shopping centres and parks — that type of thing. Unfortunately one guy was running around Hyde Park and we didn't know until it was too late that they'd called in a police marksman to try and recapture what they thought was a stray gorilla. I blame myself really.
AC: Well it was your idea.
SK: Look it's not my fault if people over-react is it? It's as bad as that thing with the Andrex puppy.
AC: What thing with the Andrex puppy?
SK: We were hired to update the image of Andrex. It was seen as being rather old fashioned and frumpy. We tried to zizz it up a bit.
AC: "Zizz it up". Is that a technical term?
SK: It is now. Anyway, you know how the Andrex puppy is always running around the house tied up in toilet roll? Well our idea was that the owner of the house would finally snap as they went to wipe their bottom and the bloody dog had run off with the loo roll yet again. So then they'd microwave the little bastard. It was all done in a very tongue in cheek way. But you should have heard the complaints.
AC: The Daily Mail called it "the sickest advert ever made" didn't they?
SK: Yes. Questions were even asked in parliament.
AC: That must have been a very draining experience for you.
SK: Not really. I just buggered off to my house in Switzerland until all the fuss had blown over.
AC: What's the secret of a really good movie campaign?
SK: It's got to be something that grabs the attention. It's got to get people talking. For the next Bond film we're going to get Pierce Brosnan to ski down the Millennium Dome blindfolded. And naked. It takes a certain kind of mind to think of this kind of stuff. You have to be creative. Can you tie a product into the film? We did that for 'Scream' - we had a tie-in campaign with a carving knife manufacturer. Burger King did a 'Pearl Harbour' promotion — the Flame-Grilled Tokyo Burger. It's all lateral thinking.
AC: Sebastian Kilmer, thank you.