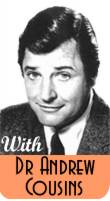 AC: Just before we move onto the strike itself I wonder if you could talk a little bit about what Equity is and what it does?
AS: Would you like me to answer this one, Daphs?
DLC: Do darling, Do. Love your hair by the way.
AS: Thanks poppetina. I'm trying a new shampoo.
DLC: Really? Which?
AS: 'Radiance for Men' £59.95 a bottle but the results speak for themselves.
DLC: It's super dear. Really you.
AS: Cheers sweets.
(Long pause)
AC: Lovely.
DLC: Ades babes, he's waiting for you to answer the question.
AS: Sorry! Miles away. Yes, Equity. Well we're a trade union, obviously. So I suppose our role is one of support. Fair Daphs?
DLC: Absolutely, peaches. We're here to negotiate better rates of pay and working hours for actors and performers.
AS: Negotiate, well done darls. I'd forgotten about that bit. You see if we don't stand up for actors then who will?
DLC: Well quite.
AC: Equity does tend to have a reputation of being a bit secretive doesn't it?
DLC: I don't know. Does it? Would you have said that Adey baby?
AS: No. I mean, it's not like we're the Masons or anything is it? They're an entirely different kettle de poisson. Apart from the initiation ceremonies we're completely different.
AC: Er, what initiation ceremonies? I've never heard of them.
DLC: Oops! Let the cat out of the bag, Ades!
AS: Oh well it's nothing exciting really. Just a simple ceremony.
DLC: And a few tests. You know, tolerance to pain that sort of thing.
AS: And a blood sacrifice.
DLC: Yes, it's all terribly, terribly gothic. You do look so good in black, Adey.
AS: Bless you, my chiquititta. Bless you. As do you, of course.
DLC: You're only saying it because it's true.
AS: You go girl!
AC: If I could just interject for a moment. Are you telling me that all new members have to take part in a blood sacrifice before they're allowed to get an Equity card?
DLC: Well of course. We don't give them out like sweets. They have to earn them.
AS: And it's not like it's a human sacrifice. We use goats and chickens. And the occasional Peregrine Falcon.
AC: Which is an endangered species.
DLC: So are talented actors.
AS: Exactly. Which would you prefer, a bird that nobody ever sees except a few loonies with binoculars or a company of actors who can put on a really good production of 'An Inspector Calls'?
DLC: Or 'Death of a Salesman'?
AS: Ahhhh, Mr Miller really knows how to craft a play.
DLC: So true. So very true.
AC: So apart from that is there anything else that Equity does?
DLC: No.
AC: Tell me about the strike action then.
AS: Well it's beastly isn't it? Ghastly. What are they thinking of?
DLC: Adrian, we've called the strike.
AS: Oh that strike.
DLC: It's all to do with royalties you see.
AS: Yes indeed. Film producers are getting richer and actors are getting poorer.
DLC: Super summarisation.
AS: Merci.
AC: So the basic problem is that producers get paid a sum every time they sell the broadcast or video rights for their film but actors only get a one-off payment. Is that right?
AS: I sense a nail/head interface here.
DLC: Absolutement.
AS: It's a disgrace. However is Dame Judi supposed to make ends meet? She is a widow, you know.
DLC: Ah, Dame Judi. Have you seen her Lady Macbeth?
AC: No I must confess I haven't.
AS: Oh you must. Superlative!
AC: But she's not exactly starving.
AS: What the good lord gives us today he can just as easily take away tomorrow.
DLC: Indeed. To utilise a sporting metaphor, he's a ruthless umpire.
AS: Meanwhile the film producers are getting fat.
AC: Only a few surely?
DLC: A few is still too many. Actors should get an equal share of the cake.
AS: Do you mind if we stop talking about food? I'm on the fifth week of my diet.
DLC: Slim Fast plan?
AS: No it's a Chinese diet which works along the same principles as Feng Shui. As long as I don't eat any carbohydrate while I'm facing north then my Chi stays in balance and I lose weight. Simple eh?
AC: Well that's one word for it.
DLC: Did I detect a note of sarcasm?
AS: A note? I detected an entire symphony!
AC: So the action you've called means that actors shouldn't accept any film roles after December 1st. What if that doesn't have any effect?
DLC: Then we shall simply up the ante!
AS: Tally ho Daphs!
AC: And what will that involve exactly?
DLC: We're going to get really tough.
AS: Frighteningly so.
DLC: Brave heart, Adey-pops.
AS: Right back at you, Daph.
AC: Er, you still haven't told me what you'll do.
DLC: We shall take to the streets!
AC: What? You mean a demonstration?
AS: No. Street theatre.
AC: Street theatre?
DLC: We'll bring the country to it's knees.
AC: By using street theatre?
DLC: Oh yes. Imagine the chaos. People won't be able to move for jugglers, mime artists, performance poets…
AS: Shopping centres will be clogged by people doing one-man versions of 'Moby Dick'. David Jason is working on his whale costume even now.
DLC: Patrick Stewart is going to fly across London in a hot air balloon reading passages from Richard Burton's autobiography through a megaphone.
AS: Alan Rickman is going to storm the BBC television newsroom in character as Richard III.
DLC: We're going to occupy the public galleries of the House of Commons and put on panto 24 hours a day.
AS: Helena Bonham-Carter will be performing a selection of songs from 'Annie' around the streets of Sheffield.
DLC: Lynne Redgrave, Peter O'Toole, Paul Schofield and Martine McCutcheon will be doing a 'Celebrity Stars in their Eyes' in Leeds. O'Toole's Jason Donovan is definitive in my opinion.
AS: It'll make the petrol crisis look like a little girl's tea party.
AC: Er, right. Well. Good luck.
Talks over the Equity strike are continuing.