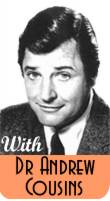 AC. Now Brick I think it's fairly safe to say that when people hear the name, 'Brick McCracken' they instantly think of your catchphrase. Does that get on your nerves slightly?
BM. No, certainly not. If it means that people remember me then, in my opinion, that's good. I suppose that there is an argument that says that you should give a memorable and convincing performance and make people remember you that way - but for me I've always found the catchphrase is much easier. Eat lead!! See? "Eat lead" is my catchphrase by the way. I'm not threatening to kill you, although I could do because I got a lotta guns.
AC. Seeing as the catchphrase is such an important part of your persona how did you think it up in the first place?
BM. I had a team of very talented writers who thought it up for me. You know, writers are the backbone of our industry and yet they are so often over-looked. Without them none of us would be in jobs. I think the huge debt that we, as professionals, owe them is one that I personally am happy to acknowledge. It's not as easy as it looks. Those scripts don't write themselves. It's a very frustrating job with comparatively few rewards. They certainly don't do it for the glamour.
AC. Why were you reading that off a card?
BM. I got it in the mail this morning. It's part of the Writers Guild settlement. We have to read it out whenever we are asked a question that involves scriptwriters. Personally, I think they are all a bunch of socially inept pencil-dicks. But that's democracy, I guess. God bless America.
AC. You talked a little about acting before. You have been accused of having a limited acting range. Do comments like that hurt?
BM. Acting isn't exactly rocket science, you know? I just turn up on set, do my lines and then I'm back in my trailer sipping champagne. I get paid extremely well for doing comparatively little. Meanwhile, you have these greasy-haired critics coming along with their notebooks and their mortgage and their high-blood pressure who say things like, "poor characterisation", "wooden" and "absence of plot". Well I say, "Eat lead!". My movies make people happy. What do they do? They complain about things and get paid for it! What sort of life is that? If I see a bad review, do you know what I do?
AC. Erm, it doesn't involve guns does it?
BM. No. I just look at my bank statements and that cheers me right up.
AC. You currently have a new film out entitled 'The Second Sight'. Can you tell us about that?
BM. I play a psychiatrist who has to help this young boy with a dark secret.
AC. It's a different type of role to that which we are used to seeing you play. Is this a planned change of direction for you?
BM. Not really. Although there does come a point at which you can't keep on playing the action hero any more. Have you seen Steven Segal's new movie? He looks like a kind of Ninja Granddaddy. Besides which I liked the script of 'The Second Sight'. Writers are the backbone of our industry and….
AC. Yes, think we got that. Much has been made of the fact that the film contains a number of big plot twists. Can you tell us any thing about that?
BM. Well there have been a number of recent films that have had a big twist at the end. We thought, how can we top that? So we don't just have one big twist, we have three HUGE twists. I could tell you what they are - but then I'd have to kill you. Boom! Eat lead!
AC. You're absolutely sure that the catchphrase never gets on your nerves?
BM. I'm sure. Why? Is it getting on yours?
AC. Certainly not. Eat lead!
BM. Back off man! That's my catchphrase! You want to be me, huh?
AC. No I…
BM. You want to be the big guy? I paid a lot of writers, a lot of money to come up with that catchphrase. I'm the only guy who gets to say it. I'm kinda superstitious about it. I only ever say it in movies, in interviews or that Pizza Hut commercial I did. Or if a fan asks me too.
AC. So barely ever really….
BM. Exactly. But I never, ever let anybody else say it. Understand?
AC. Yes. Sorry.
BM. You know what I normally do when people steal my catchphrase?
AC. Does it involve guns?
BM. Yes. Yes it does.
AC. You like guns don't you?
BM. Well I use guns a lot in my movies so I figured that I should know how they worked. I kinda got interested in them from that point onwards. My favourite gun is an AK-47. It's got real stopping power. You look after it, it'll look after you. I call mine, "The Beast".
AC. But you also have a more artistic side don't you?
BM. I write poetry. I've had three volumes of my poems published. "Window to my Soul", "I Share my Dreams with Angels" and "Maximum Kill Ratio". The last book is all poems about guns. I've written a poem especially for this interview actually.
AC. It's not about guns is it?
BM. No. It's about making movies..
Celluloid Whispers
By
Brent McCracken
Film.
You are an enigma.
Bringing together
Art and Science
Like a kind of really
Strong glue.
You show us
Ourselves
As we are.
And as we
want to be.
Film.
You are a contradiction
Bringing together
Light and sound
Like a kind of really
Big bomb
But a bomb
Made out of emotions
Film.
You defy explanation.
A hundred years old
Yet you seem to have
Been around forever
A bit like
Elizabeth Taylor
Or Charlton Heston.
AC. Brick McCracken, thank you.
Brick McCracken's fourth anthology of poetry, 'Lens of the Heart' is published this summer. 'The Second Sight' opens next week.