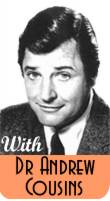 Layton, the strike is scheduled to begin on Wednesday the second of May. I imagine that you must be feeling quite tense at this moment in time?
Can I just ask, is your name pronounced 'Cousins' or is it pronounced the French way — 'Couz-anne'?

Erm, it's pronounced 'Cousins'.
I see. The only reason I mention it — and it's really only a very small thing — is that when we met, you pronounced my surname as 'Bridges'. As I say, it's only a small thing. I won't mention it again.

I'm most dreadfully sorry Layton. How should I have pronounced it?
Hmm. Actually, that's kinda the other thing I wanted to mention. See, you keep calling me 'Layton'. I know that's how it's spelled. In fact, that's how my father and his father before him used to pronounce it. But I've done a lot of research into my family history and I discovered that in Ye Olde Ancient France where my family name originates it's actually pronounced 'Loy-ton'. 'Loy-ton Brid-geê'.

I'm most dreadfully sorry, Loyton. Or would you prefer me to call you Mr Bridges?
I just told you, it's pronounced 'Brid-geê'. That's actually bordering on quite rude now.

Right, sorry. Er, the strike?
Yeah sure. Well basically we're in dispute with the studios over two fundamental points. I guess you could say we had differing points of view.

So what exac…
Didn't you see what I did there? "Two fundamental points"? "Differing points of view?" Did I tell you that I worked on 'Ace Ventura: Pet Detective'? Jim Carrey knows me by my first name.

So as I was saying…
He pronounces it right too.

Yes, I've already apologised for that. Twice. Now if we could get back to the strike?
Proposed strike. Nice bit of foreshadowing there, huh? Don't count your chickens until they've hatched. That's actually a cliché so, strictly speaking, you shouldn't use that in a script. You know that line in 'Airplane' where Leslie Nielsen says, "Don't call me Shirley?" — I wrote that!

About half an hour ago you mentioned two fundamental points, which were the reason behind the threatened strike action. What are they?
Two things, ok? Pay and credit. How's that for a snappy soundbite, huh? You know that line in 'The Terminator' where Arnold Schwarzenegger says, "I'll be back". I wrote that! How cool is that?! I gave Arnie his catchphrase!

That's great, I'm very happy for you. You still haven't told us what the two things you are in dispute about actually are in any great detail. Or in any detail at all.
"Patience, young Skywalker". That still sounds as good as the day it churned out of my typewriter, you know. Basically our beef is that the film studios are making huge profits out of our work when they re-sell movies on video and DVD. That's our first problem…

If I can just interrupt you there… The video market has been making extremely large profits for the Hollywood Studios for almost twenty years. DVD has only seriously begun to become a serious home entertainment format in the last two to three years. Have you only just noticed what's been going on around you or something?
I hope you aren't suggesting that the average writer is stuck in front of a computer screen 24 hours a day, 7 days a week, to the point where he begins to lose touch which what's happening in the rest of the world. You know, if our guys out there fighting Saddam in the Gulf could hear you now… Our boys are dying for people like you.

Actually, the Gulf War has been over for nearly eight years. The only allied troops killed were accidentally blown up by some American bombers.
Are you a communist?

No, I'm a Liberal Democrat. Tell me about this pay dispute. Please.
Well okay, I take your point that we should possibly have done something about the huge amounts of money that studios have been making off video sales for the last two decades before now. But what you've failed to mention is the Internet. People can download movies off the Internet and watch them at home and we don't make a penny off it.

But people can't download movies off the Internet. And if they could then they'd just be a horribly jerky little postcard-sized window on their computers that would take about a week to download. It's just not feasible at the moment.
But it might one day. We're using our imaginations here. We are writers, you know. You know that bit in 'American Beauty' when Kevin Spacey says, "Pass the asparagus please?"

Did you write that bit?
No. But I wish I had. Do you want to know about the second point of the dispute?

Yes, do tell us.
Well the second point is about credit. What's one of the main things that you notice about films today?

They've all got Judi Dench in them?
I hadn't noticed that. Good point. No, they're all credited as "A film by Blah Blah" or "A Blah Blah film". See, at one time that was used as a selling point for a movie. Hitchcock was a big box office draw so you'd stick his name above the title. It was used as a kind of advertising. Now it's used as a form of self-aggrandisement. First time directors are getting to stick, "A Film By Flub Flub" at the start of their movies. What sort of box office draw are they going to be? Have you noticed that only male directors do it? It's like some sort of cut-price penis extension.

I think you'll find that Kathryn Bigelow does it too…
Yeah, well there always was something odd about her.

I've heard it suggested that you're all just a bit bitter because nobody knows the names of any writers these days.
That is a crock of shit. Next thing you'll be telling me that using lots of writers on a film is a sign of desperation or that's it's going bound to turn out bad or something.
Well, I have heard it suggested.
It is sooooo not true. Take 'The Flintstones' for example. The only reason that thirty writers worked on that is because we wanted to make each and every joke perfect. It takes a lot more skill then just writing a stream of jokes and inserting, "Yabba-dabba-doo" every other line.

Which, to be fair, is exactly what happens in the film. It was also a resounding box-office flop.
Er, you know that line in 'Jurassic Park' where Jeff Goldblum says, "Nature always finds a way"?
I suppose you wrote that did you?
No. I'd resigned from the film before that bit was written. Spielberg kept pronouncing my name wrong.

Loy-ton Bridgeê… — is that close enough?
It'll do.

…Thank you for talking to me.

Note: At the time of writing the deadline for negotiations had passed with the issues at the heart of the dispute unresolved. Talks continue, although no new deadline for strike action has yet been set. If Layton Bridges is involved in the negotiations I can only feel pity for those taking part.