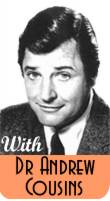 AC: Oliver, you're something of a new face in Government and the position of Film Minister is quite high profile. Is that something that worries you at all?
ON: Not at all. Yes, it's true that I haven't had a very high public profile up until now. But in my previous job as Permanent Secretary to the Permanent Under-Secretary to the Minister of Agriculture I gained a lot of ministerial experience. Obviously, I wasn't a Minister but I certainly experienced a great number of them. I'm delighted to be taking on the role of Film Minister. Film is a big thing. Did you know that in this country we spend more each year per head of population on going to the cinema then we do on toilet tissue?
AC: Goodness. That's a lot of bottoms going unwiped.
ON: Indeed. But it's also true that we haven't been as "hands on" as we perhaps should have been. I spent a lot of time under Peter Mandleson as his clerk and he's very "hands on", I can tell you.
AC: Yes I bet he is. When you say you want to be more "hands on" what exactly do you mean by that? It's just that it sounds like a meaningless soundbite.
ON: There's nothing wrong with a meaningless soundbite. Provided that it has a meaning, of course. You see in this day and age we've become very cynical. We've also got a much shorter attention span then we used to. I call it the "MTV effect". We need information in a very short, sharp and above all direct way. A good soundbite carries more gravitas then a whole two-hour speech in my opinion. We live in an information age. Knowledge is power. But with power comes responsibility. The electorate has given us a mandate but they expect us to deliver. There will be no return to the boom and bust economy of the past. Education, education, education. Yes, John Prescott punched that Welshman but he was provoked. The upturn starts here. We must not fail the people of this nation. They have put their faith in us. But, er. What was the question again?
AC: I've absolutely no idea. You've just got back from a fact-finding visit to the United States. What facts, if any, did you discover while you were there?
ON: Well they've got some really great shops. I bought three new suits and some red silk ties. Tony likes those very much indeed. The restaurants over there are just fabulous. They make ours look like greasy spoon cafes. I saw the last episode of 'Friends'. Chandler marries Monica you know.
AC: I actually was asking what you discovered about the American film industry. Not what you found out about America in general.
ON: Right. Yes. Well I discovered a great deal about it really. One thing that impressed me was the way they identify gaps in the market. If one film is a success then they immediately make a dozen more just like it. I think that's a system that we could really usefully adopt over here. Think about it. It's the free market in action. Supply and demand.
AC: Yes, you're using soundbites again. But what you're suggesting would surely be a disaster?
ON: Well lets see… Er, free market… Supply and demand… No that all seems to make sense to me.
AC: But what you're advocating is the kind of blind opportunism that is ruining what little film industry we've currently got. Look at all the duff romantic comedies that followed 'Four Weddings' or the umpteen unthrilling gangster thrillers that followed 'Lock, Stock'. Surely what you should be encouraging is for people to make films that are more original not less.
ON: I don't think you are living in the real world, Dr Cousins. People don't like originality. It scares them. Look at New Labour. People liked Thatcherism but they didn't like the people who gave it to them. That's where New Labour stepped in. We gave them new improved Thatcherism. Thatcherism with a smile. Thatcherism 2, if you like.
AC: How much does the Government care about film?
ON: We care enormously. Tony is a big film fan. He told me only yesterday that at the end of a long week there's nothing he and Cherie enjoy more then watching a good film. He's a very big fan of Tom Hanks. I know for a fact that he's seen 'Big' twenty seven times. Also he's invited numerous figures from the world of film to dinner parties at Number 10. Vinnie Jones was there only two weeks ago.
AC: But some people would argue that he only does that because it makes him look good to surround himself with famous people.
ON. Yes. Sorry what's your point exactly?
AC: Lets talk about the Film Council.
ON: Oh God. Must we?
AC: I'm afraid so.
ON: Go on then.
AC: How do you respond to critics that the Film Council has been giving money to the wrong sort of films? That they haven't been commercial enough?
ON: I think that in some respects that might be justified. Don't get me wrong. Art house cinema has its place, obscure run-down picture-houses and late nights on Channel 4 mainly. I mean most of it is garbage quite frankly. It goes completely over my head. But some people like it and that's fine. As long as I don't have to sit through it, I don't mind. However the Film Council has to strike a balance. They have to balance the weird loopy rubbish with films that people actually want to see. I've been greatly disturbed that they've not yet funded a Kate Winslett film, for example. David Jason is a very popular actor. Why can't we see him in a film? These are the kinds of thing we need to be talking about.
AC: What about the drive to invest more money into regional film making. How is that going?
ON. It's difficult. One of the problems we face is that people outside of the capital often tend to be less middle-class and less well educated then I am. So we can't just throw pots of money at regional arts boards. They'd go mad with it and spend it on Ikea furniture for their offices or something. No we need a grass roots system of reform. We need to identify and nurture talent from an early age. One scheme that comes into force next year is the so-called "kiddie-flick" initiative.
AC: I hadn't heard about that. What is it?
ON: It will mean that all eleven year olds will be required to write and direct a feature film by law. The people who show promise will be encouraged to develop their skills. Failure to make a film will result in a short term at a secure correction facility.
AC: But that's monstrous.
ON: It's the only way to identify potential, I'm afraid. It's not so different to giving children perfect pitch tests to discover if they are musically gifted.
AC: But at least they aren't forced to take them by law.
ON: Did you take a perfect pitch test as a child?
AC: No. I was ill that day.
ON: And can you play the piano?
AC: No.
ON: Well there you go then.
AC: Finally, where do you see yourself in four years time?
ON: Well there is one thing I want to do… No. It's too embarrassing.
AC: Really? It can't be that bad surely?
ON: I'm not sure I should say.
AC: Oh go on.
ON: Oh OK. I want to be the first minister to get on the cover of 'Empire' magazine.
AC: God. That really is embarrassing. Minister, thank you.