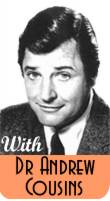 The award for úBest Overuse of MTV style cameraworkĒ went to »Server Not Found±. The film explores the power of the Internet through a mix of frenetic camerawork and a dense cacophonous sound mix. It was written and directed by Tim Van Der Transyt.
Tim, the film is tremendously strong visually.
TVDT. Oh like, er cheers. Yeah.
One criticism I do have is that I still don±t really have any clue as to what it was actually about. I only know it±s about the Internet because it says so on the award programme.
Yeah but, like, the whole point of it is that it±s, like, ambiguous. Right? So if, like, I, like, explained it to you now then, like, that would render it artistically invalid. Yeah?
I see. So the artistic merit in the work for you is the power of ambiguity?
Like, yeah totally. I hate it when, like, you go to, like, the cinema and it±s all explained for you.
What you mean where the toilets and the popcorn stand are and so on?
No way guy«
My name isn±t Guy.
Chill guy, I know. No, I±m talking about the story all being explained for you. It±s all so »A straight to B±.
Where you±d prefer it more if it was »A back to A again but via a circuitous route through F and J± I suppose?
That±s right. Totally.
One thing I noticed was that the film made very strong use of sound.
Bingo! Absolutely right. Like, for me, sound is 98% of the experience. I mean, like, the visuals are cool but it±s the sound that tells the story.
Or in this case doesn±t.
Like, that±s right.
The award for úBest Film that blatantly massages the ego of the DirectorĒ went to »James Crowson has a Massive Cock± in which James Crowson gets former girlfriends to recount stories about his incredible sexual prowess.

James congratulations on your award. It±s rather a controversial piece of work isn±t it?
Well controversial is my middle name. Actually it±s not. It±s Alistair.
How did you persuade your former girlfriends to take part in the film?
Well, luckily I±m on good terms with all of them, so really it wasn±t that hard. Actually there is one who still doesn±t speak to me.
Oh. I±m sorry.
Well it±s kind of my fault. I did sleep with her sister.
Ahhhh...
And her mother.
Many people say that the problem with making a film that±s very personal to you is that it±s then very difficult to make a film that isn±t about you. Does that worry you?
I suppose so. But before then I±ve got a load more ideas about me. There±s »James Crowson Can Drink a Massive Amount of Beer±, »More about James Crowson±s Massive Cock± and »James Crowson: My Family and Other Animals±.
The award for úBest Documentary On a Subject That Has Already Been Bludgeoned Into The Ground By All The Major Broadcasters, You Poor Blinkered Student FoolsĒ was won by »Drugs, Drugs, Glorious Drugs±. The film is a searing indictment of the impotence of Britain±s drug laws coupled with an examination of the futility of so-called »drug culture±. It was written and directed by Simon Sezz.
Your film made great use of handheld camera. I assume that you wanted to imbue the piece with a sense of realism. Is that right?
No not really. Mainly it was because we couldn±t afford a tripod.
Many would argue that the subject of drugs was one that has been covered many, many times already by other people. Was your film made as a reaction against that view?
Er, sort of yes. Also I couldn±t think of anything else.
What made you want to be a film student?
I was sort of pushed into it really.
Really?
Yeah. It was a condition of my parole that I attended college. It was either film studies or English Lit. Have you seen how much work they expect you to do for English Literature? Bugger that.
You were on parole?
Yeah. So?
No. Nothing.
I±m not a violent man.
I wasn±t suggesting«
But if I±m provoked I will defend myself.
Yes. I can see that.
The award for úBest Overwrought Student DramaĒ was won by Geraldine Bannister for her film, »Baggage±. It tells the story of Sebastian who has look after his mentally retarded brother because their parents are alcoholics. At the same time Sebastian has to come to terms with the fact that he is secretly a lesbian transvestite trapped in a man±s body. Things come to a head when Sebastian±s father wipes out a beer glass with his favourite chiffon nightie.
±Baggage± is a very issue-led piece isn±t it?
I wanted to use the medium of film to explore many different issues. Too much drama is afraid to challenge these days. I±m not like that. I like to grab hold with both hands and shout, úchallenge me!Ē In fact, I injured my boyfriend last night doing just that!
Ah. Er«
That was a joke.
Oh. I see. Good. Erm, some people might argue that you try to explore too many issues in your film.
Like what for example?
Well the sub-plot about Sebastian taking part in a demonstration about animal cruelty may have seen a bit »tacked on± to some people.
Did it seem that way to you?
I«. I think« maybe«.
Well?
No. It was fine. Can you explain the title to me?
Isn±t it obvious? What do you think it means?
I suppose that it refers to the fact that all of us carry some sort of emotional baggage with us. Emotional baggage that could range from alcoholism, a troubled sexuality, drug dependency or being addicted to repeats of »Changing Rooms± on UK Style.
There you are. You answered your own question.
Oh yes. It was obvious wasn±t it? What are you working on next?
I±m working on a new short film about a one-legged trapeze artist who leaves the circus to protest against deforestation in the Amazon. It±s going to be very challenging.
Dennis Parkin is the man who organised this year±s awards. I briefly spoke to him about his thoughts on the evening.

Dennis it±s certainly been a very varied night in terms of the stuff that±s been shown. Do you deliberately try and vary the films as much as possible?
I wouldn±t say it was deliberate, no.
So you basically just grab whatever you can get?
That±s the general idea.
Can I ask what you made of the films?
I can honestly say that I±ve got no criticisms of any of the students or their films«
Gosh, that±s amazing. So«
Apart from the generally poor standards of the scripts, the lack of ideas, the appalling sound and camerawork and the shoddiness of some of the editing.
Right. So actually one or two things«
The acting was quite bad as well.
Any other complaints?
Yes. The bar is filling up and you±re stopping me from getting to it.
Dennis Parkin, thank you.