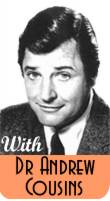 'Divorcing New York'
Written and Directed by Woody Allen
USA - 113 Mins
"Allen plays a jazz-loving stand-up comedian who after spending twenty years banging on about how great New York is suddenly realises that it's actually a noisy, dirty, heavily over-crowded city with a terrible public transport system, soaring crime rate and poor standards of living. He decides to leave with hilarious consequences. Many people have seen this film as an allegory of Allen's own separation from Mia Farrow.
Also stars: Diane Keaton, John Cusack

'The Existentiality of Existence'
Written by Marie Gillette
Directed by Jean-Jacques Trieste
France - 120 Mins
"Drama exploring the disintegrating relationship between Pierre and Genevieve, a young professional couple living in Paris. An already tense situation is made worse when Genevieve begins an affair with Bertrand behind Pierre's back. A tense situation becomes tenser still, when Pierre also embarks on a secret affair with Bertrand. The unbearable tension is made even more unbearably tense when Bertrand is revealed to be the Antichrist.
This film features some of the most sexually explicit material ever seen in a mainstream film. It's also unique in being the only film shown at Cannes that is also showing at the neighbouring Porn Festival."
In French with English subtitles

'Hollywood'
Written and Directed by Ken Loach
UK – 30 mins
"Documentary in which Ken Loach examines the Hollywood system. He focuses on the experiences of British filmmakers who have made films in America. Did the reality live up to their expectations? The film features an incredibly powerful climax where Loach climbs up the famous Hollywood sign – then pisses on it."


'Little Jimmy Tinker'
Written by Donald Protest
Directed by Brian Sentinel
UK – 98 Mins
"Jimmy Tinker is an eleven year old lad from a working class family in Yorkshire. His father hopes that one-day he will follow in his footsteps and become a coal miner. All Jimmy really wants to do is write restaurant reviews for The Sunday Times. Will he achieve his ambition?"

'Impenetrable Marketing Campaign'
Written and Directed by Steven Spielberg
USA – 120 Mins
"Spielberg's first science fiction film since 'ET: The Extra Terrestrial' tells the story of a film maker who's latest movie is supported by an incredibly complex marketing campaign. The campaign uses trailers and hidden images in advertising posters which lead people to specially-created websites which hint at elements of the storyline but which are themselves wrapped up as part of an enormous puzzle. Too late, the film maker realises that he's spent so much time concentrating on the marketing campaign that he's totally over looked things like a decent script, good characterisation and performances in the actual film. Will he escape from this nightmare?"

'The Karaoke Bar'
Written by Peter Greenaway and Toyota Suzuki
Directed by Peter Greenaway
UK/Japan – 185 mins
"Art house drama about a young Japanese woman who can only become sexually aroused whilst singing karaoke. She spends her nights cruising karaoke bars singing the greatest hits of Tina Turner in search of fulfilment. Then one night she meets a charismatic young Welshman (Rhys Ifans) and her world is turned upside down."

'Run Rabbit Run'
Written and Directed by Derek Jarman
UK/France – 128 mins
"Unseen Derek Jarman art film. An impassioned plea in support of vegetarianism, the film features documentary footage of rabbits in the wild with an overlaid sound montage made up of babies crying, gunshots, Shakespeare being played backwards and featuring the voices of Derek Jacobi and Tilda Swinton."

'Ich Bin Ein Street Sweeper'
Written by Klaus Bliender
Directed by Hans Beenz
Germany – 98 mins
"Dogme-style drama about the life of a Street Sweeper on the mean streets of Berlin. He encounters daily confrontations with people as he attempts to clean up the city."

In German with English subtitles.

'The Great British Film Industry'
Written and Directed by Mike Leigh
UK – 111 mins
"Jim Broadbent plays Martin, a middle class film director who is obsessed with making films about the middle classes. As he slowly begins to realise that he has been remaking the same film over and over for the past twenty years, his wife Doreen (Brenda Blethyn) makes a shocking announcement"

'Ain't Clubbing Brilliant?'
Written by Jeremy Mostyn and Tone "2 Fingas" Def
Directed by Alex E. Zerguid
UK/Holland 115 mins
"Drama set in club land. It features a soundtrack by top Dutch DJ, Warren F and British superstar DJ, Flatboy Thin. Has been variously called 'Awful – Barry Norman' and 'Brilliant - Mixmag"
The Cannes Film Festival runs for another week.