by dr andrew cousins
andrew@netribution.co.uk
The Breakdance Film Festival
The Breakdance Film Festival has been running for an extraordinary twelve years. In that time it has quickly established itself as Britain's premiere film festival. Every year it shows the cream of cutting edge shorts and new feature films. I asked the festival co-ordinator, Tristan DeSheills to talk me through some of this years best entrys.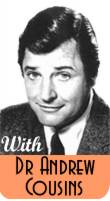 'Inward Facing Tears'
Short Documentary
12 Mins
Directed by Austin Trenchard
Winner of the Silver Teardrop at the Helsinki Documentary Film Festival 1999

"A very powerful essay on what it is to be a man in the 21st century. Austin Trenchard's uncompromising film contains graphic footage of men crying as they describe the loss of a loved one, a favourite pet or the outcome of the 1987 FA Cup Final. Particularly moving is the sequence in which Vinnie Jones is taken back to the spot where his Yorkshire terrier, Squeaky, was run over in 1972. You really get a chance to see the man behind the image"

'Isolation, Confusion, Loss'
Short Documentary
11 Mins
Directed by Vanessa Feltz

"Vanessa Feltz takes us on a personal journey through the last twelve months of her life. Audiences should note that this film contains lengthy sequences of Vanessa without any make-up"

'Eleven Men with Queer Shaped Balls'
Short Documentary
13 Mins
Directed by Alan P. Nurse
Winner of the Golden Dildo Award at the Toronto Gay and Lesbian Film Festival 2000

"A very funny and heart-warming film about the ups and downs of a gay rugby team in Birmingham as they battle to win their league. Will they be able to go all the way? Or will they have to pull out early? From the director of 'Dykes on Bikes' a film about a lesbian cycling team."

'Insomnia'
Experimental Short
7 Mins
Directed by Julie Housegogarden

"A blend of images, music and sound effects which attempt to convey the feelings of being deprived of sleep for 48 hours. Warning: contains stroboscopic lighting effects and extensive use of Portishead on the soundtrack."

'Men are from Mars…'
Short Drama
10 Mins
Directed by Blake MacFisheries

"Bernadette wants Wayne to commit to a long-term relationship. Wayne is uncertain. That is until his guardian angel appears and shows him what his life would be like if he was struck down with testicular cancer. Issue-led drama."

'I was 3 Feet Shorter as a Child'
Short Drama
6 Mins
Directed by Waylon Hemmingway
Winner of the Crystal Onanism Award 2001

"Nostalgic look back at the 1970's through the eyes of Warren, a boy who spends his days at the local fleapit dreaming of becoming a director"

'Carpe Diem'
Short Drama
10 Mins
Directed by Natasha Sinatra

"Lucien is a drifter. He is drawn into a shadowy underworld by a beautiful woman. Has he been embroiled in a vampire cult? Or do they just need more iron in their diet?"

'Three-way-thing'
Short Drama
10 Mins
Directed by Arnott Wiiierd

"A dinner party conversation turns to the subject of sexual fantasies. Will the guests feel liberated enough to act them out? Contains nudity, sex scenes and the muted grunts of the director in the background"

Plus the premiere showings of:

'Mr Floppy'
British Feature Film
101 Mins
Directed by Noyce Undercarriage
Written by Richard Curtis

Starring Hugh Grant, Judi Dench, Gwyneth Paltrow and Rowan Atkinson as Dr Blenkinsop

"Romantic comedy in which Hugh Grant plays a terribly nice stuttering young Englishman afflicted by impotence. Will it wreck his chances of a relationship with the lovely young American travel agent?"

'Spatchcock'
British Feature Film
120 Mins
Directed by Guy Ritchie
Written by Guy and Madonna Ritchie
Winner of the Mike Figgis Award for Best Use of a song by Sting

Starring Jude Law, Joseph Fiennes, Helena Bonham Carter and Eddie Izzard as 'Muppet'

"A British take on 'Shaft'. Jude Law is Dave Spatchcock, a private detective prowling the mean streets of Weston-Super-Mare"

'The Tightness of my Corsets'
British Feature Film
135 Mins
Directed by Alan Parker

Starring Ralph Fiennes, Emma Thompson, Anthony Hopkins, Samantha Bond

"Costume drama exploring the seething undercurrent of sexual tension and illicit desire in a London department store at the turn of the century"

'Elastic Reality'
British Feature Film
90 Mins
Directed by Mike Figgis
Winner of the Sony Award for Extreme Cleverness

Starring Saffron Burrows, Saffron Burrow's Friends, Julian Sands

"Digitally shot drama. The screen is divided into 100 different screens each showing a different image – some too small to be seen with the naked eye. Simultaneously broadcast on the Internet.

The Breakdance Film Festival runs from April 3rd – 7th.