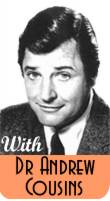 25th November 1942
Miss Pritchard has asked me to direct the nativity play this year. I asked her what the budget was likely to be. She said that there was no budget but that I would have full access to the dressing-up box and the cardboard manger from last year. It means that I will have to scale down my ideas somewhat. The flashback scene to the parting of the Red Sea will have to go as will the recreation of the Great Flood incorporating a full size Ark. However I eventually agree to take on the project.
9th December 1942
Have completed the script for the play, "Stanley Kubrick's Birth of Christ". I intend to stage a modern dress version with Herod dressed as Adolf Hitler and his soldiers as SS officers. I am having a meeting with Miss Pritchard to discuss my ideas later this afternoon.
10th December 1942
Miss Pritchard has branded my ideas "too controversial". She was particularly critical of my intention for Mary to deliver Jesus by Caesarean Section. She has insisted that I work from the script for last year's play. I refuse until she threatens to send me to the headmaster's office. I grudgingly accept her terms.
15th December 1942
Casting. I have given the part of Mary to Patty-Sue Moffat. I was very impressed with her reading of the role at the audition. She brings a fragile innocence to the part. Plus, she has her own doll that we can use for Jesus. The role of Joseph I have given to Norman Taylor. He is dyslexic which caused a few problems when he called King Herod, "King Heron" but with coaching I'm sure he will be fine. Tony Romero will play Herod. He is the school bully and the other kids are terrified of him. I am experimenting with the Method school of acting. Tony has also offered to get some flick knives to arm his soldiers but I've declined the invitation.
18th December 1942
First rehearsal. I have made the cast hike around Central Park wearing their costumes to get a feeling of what Mary and Joseph's journey to Bethlehem must have been like. After three hours, Patty-Sue started crying and said she wanted her mother. I reluctantly send the cast home. Tony asked if we could have Bethlehem burn to the ground during the final act. I tell him that Miss Pritchard has expressly forbidden the use of any special effects after my request for three pints of stage blood for the birthing scene.
19th December 1942
Second rehearsal. I have made Patty-Sue strap a cushion to her tummy from now until the performance. I want her to get the feeling of being pregnant. When she gives birth on stage it must feel like the real thing. Miss Pritchard expressed concerns about my approach pointing out that Patty-Sue is only eight and is therefore unlikely to have any idea what being pregnant is like no matter how long she has a cushion shoved up her jumper. Miss Pritchard clearly knows very little about acting.
Tony is expressing problems with his character. He wants to know why Herod cannot carry a machine-gun like Al Capone. I eventually talk him out of the idea by allowing Herod to wear a set of knuckledusters instead.
21st December 1942
Performance. Some initial problems during the first act. One of the shepherds kept waving at her parents in the audience. The donkey's head fell off and the pantomime cow's back legs parted company from the body several times. The innkeeper forgot his line about there being no room at the inn. I vow to use professional actors from now on. Olivier wouldn't have these problems. On the plus side, Tony's Herod was a triumph. At one point he actually reduced one of the three wise men to tears. His constant use of the F-word was slightly unnecessary though. Patty-Sue was excellent as Mary. She did drop the baby Christ on his head once but I don't think anybody noticed. The audience were so moved by the play that they forgot to applaud once the curtain fell until Miss Pritchard started clapping and then they joined in. All in all I am satisfied and will be able to iron out any remaining problems during next year's play.
7th January 1943
I have been informed that it is "highly unlikely" that I will put in charge of next year's nativity. Miss Pritchard says that the school received a record number of complaints from parents after the play. Although disappointed by this reaction I am undaunted. I received a 16mm camera for Christmas and have been experimenting with making motion pictures. I have already cast Tony Romero in a short film I am making about Al Capone entitled "Stanley Kubrick's Scarface"
Note: Stanley Kubrick never completed "Scarface" due to Tony Romero being sent to a juvenile detention centre following his arrest for arson. The script will be completed by Steven Spielberg once he has finished work on 'A.I'.