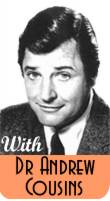 At this point in his career, Leonard J. Fassbinder was a producer of ultra-low budget nudie flicks and schlock-horror films. He knew what his audiences wanted and the drive-in theatres were constantly demanding new pictures from him. Films such as, 'Ladybumps' (1963), 'Teenage Space Vixens On Heat' (1965) and 'I Love Leprosy' (1967) are regarded as classics today. In the sixties they were seen as nothing more then cheap filler material. This irritated Fassbinder who wanted to be seen as a maker of quality work. He was responsible for the start of many promising directors careers, notably Martin Scorcese who made "My Italian Mother Has Risen From The Grave!" (1964) at the Fassbinder studio.
As time wore on it was becoming apparent that audiences were shunning the cheap studio pictures that had made Fassbinder famous. Instead they were turning to more glamorous fare such as the Bond films. Hollywood turned it's back on Fassbinder and he retired from production in 1972 following the failure of his horror-musical 'The Groovy Hunchback of Notre Dame'.
So he would have stayed had he not encountered a mathematician named Alvie Pushkin in 1986. By day Pushkin worked at NASA calculating orbital decay values for communications satellites. At night he escaped from the grinding tedium of applied mathematics by going to the cinema. Alvie loved the movies. He would watch anything that he could. Mainstream blockbusters, art house films, foreign cinema – Alvie watched them all.
As he watched he began to notice that in certain film genres various characteristics within those genres would turn up in over and over again. For example slasher movies almost always have someone say "I'll be right back" seconds before they are slaughtered. Pushkin may have been a movie lover but he was also a mathematician. He began to wonder if films were quite as formulaic as they appeared to be. He knew that it was mathematically possible to analyse the various elements that made up a film plotline. But was it possible to use that raw data to reverse the process? Could he use maths alone to create the perfect film plot for any given genre?
For a whole year Alvie worked on proving his theory. He would toil long into the night wrestling with incredibly complex non-linear equations. He would occasionally run his figures through NASA's computers to try and speed the task up. Even so it soon dawned on him that the job was impossibly big. There was just too much data and too many variables to consider to encompass every genre. Disheartened, he almost gave up. Then it occurred to him that since particular genres normally featured elements peculiar only to themselves that he needed to create a different equation for each different genre.
In a sudden rush of inspiration he worked through the night. He reasoned that it was best to start with a genre that normally included a few fairly simplistic elements and relatively unsophisticated plots. He therefore chose to begin with action films.
By the next morning he had boiled the genre down to a mathematical expression so simple and elegant that it was almost impossible to believe. This was the formula for creating the perfect action film:
P=(N>X)
P = the plot of the film. N = the amount of female nudity present in the film. This must always be in inverse-proportion to X = the number of explosions the film contains.
It seems almost too simple but try it for yourself and you'll see that (with a few exceptions) it works. 'Armageddon' contains lots of very large explosions but no female nudity. 'Basic Instinct' has no large explosions but it does contain tons of female nudity.
Alvie published his findings in Science Review. Most mathematicians aren't very interested in films and so his work was largely over-looked.
Meanwhile, Leonard J. Fassbinder had turned to Broadway for his living. He was now producing big, extravagant musicals to great critical acclaim. Despite his success he had found himself increasingly wanting to get back to making films. He had a number of assistants trawling for scripts that he could put into production. One of the jobs they were given was to look through all the current newspapers and magazines to see if they contained anything that could be used as the starting point of a film script. One researcher was given the thankless task of trying to find film ideas amongst the dry technical theory of Science Review. What he found instead was Alvie Pushkin.
Fassbinder could immediately see the potential of owning the patent on Alvie's formula. He had amassed a small personal fortune off the back of his latest stage show, a hard-hitting musical about drug dealers entitled 'Leonard J. Fassbinder's Crack!' He offered Alvie two million dollars for the exclusive rights to Pushkin's formula. Alvie gladly accepted.
Today most Hollywood action films are made according to Pushkin's Theorem licensed to them by the Fassbinder Corporation. Unfortunately, Leonard J. Fassbinder's dream of a return to film producing was curtailed by a massive heart attack in 1988. He died six months later. Jerry Bruckheimer spoke at his funeral calling him "a visionary, a pioneer and one lucky son of a bitch". Science Review is now essential reading for all Hollywood moguls, nobody wants to miss the next Alvie Pushkin.
Alvie still works at NASA. He is bound by a confidentiality clause and refused to take part in the writing of this article.
Dedicated to Leonard J. Fassbinder 1911-1998