Al Gore visits London to launch new cable channel Current TV
Former US Vice-President Al Gore was in London yesterday for the British launch of the cable channel that he co-founded with entrepreneur Joel Hyatt in 2005, with the aim of "democratising the medium of television."
Current TV is the first channel where one-third of the channel's programming is supplied (and voted for) by the audience.
"This is not going to be a political or ideological channel in any way, shape or form. It is far more revolutionary than that."
The channel shows 3 to 8-minute videos, or 'pods', on a non-fiction subject, which have been uploaded to the Current TV website by viewers. Viewers also have the opportunity to make adverts, which, as Gore admits, "our sponsors obviously have to look at and approve of," and then "we make a small payment to the maker."
There is also a 3-minute Google Current news round-up every hour, featuring the top search items on Google, giving what Gore calls "a faithful reflection of what the hundreds of thousands of mouse-clickers are searching for, an X-ray scan of what they are searching for in any given hour." Recent top searches in the UK have included 'Helen Chamberlain', a Sky Sports presenter, with 'Helen Chamberlain naked' coming in just behind, and the list is topped by 'Tamer Hassan' (make sure you turn up the sound before clicking that link), of ITV's The Bill, and the film Layer Cake. Looking at the rise and fall in popularity of such searches provides the background to the news updates.
The channel will also have regular instalments of travel experiences, hosted by Lonely Planet's Blue List. Additionally, Current TV is involved in a project with the British Library, 'The Current Diary of Great Britain', where one video each month for the next year "will be voted into a body of work that will be preserved by The British Library for future generations to see."
However, it is the user-generated videos that are the main draw of Current TV. The term 'viewer-created' littered Gore's speech yesterday, as well as 'new generation' and 'conversation'. The emphasis is very much upon the younger end of the television audience, who are familiar with the internet, mobiles and an over-abundance of digital channels, doing it for themselves instead. As Gore put it: "It is creative content from people who have been shut out in the past. We make it easy enough and accessible enough so that the creative person can express a point of view, and it can be seen by millions of people."

Gore explained the generation gap between himself and the 18-34 year-old target demographic of Current TV by looking at how attitudes towards watching television has changed: "My generation of young people saw television as such a magical new medium." Now, however, viewers are far less passive.
Gore's view of traditional media is that it is inherently centralised and closed to audience response; in an interview with Times Online, he called it the 'feudalism' of television. In contrast, when referring to the input of the channel's producers, Gore says, "the filter we impose is one of quality." When pressed on whether extremist views would be aired on the channel, such as a pod made by BNP members, Gore said that nothing deemed so offensive to the audience would be screened: "You will find a general set of assumptions in favour of tolerance and opposition to hatefulness towards any particular group."

The selection of films shown at the launch was eclectic. It began with a 'Current Rant' by 32-year-old British journalist Sam Delaney, who complains that he has fallen out of love with all things British: "Royal Family, binge-drinking, alcoholism, Bob Holness, misery, rain, saveloys…" Despite the comic opening, this pod is not without its political dimension, showing Delaney looking at a story called 'Schools 'must teach Britishness'.' on bbc.co.uk, and asking people in the street what Britishness means to them, prompting one answer that he later (half-jokingly) calls racist.
The next film is a jarring change in tone and subject, exploring the harrowing experiences of Kenyan prostitutes facing the spectre of AIDS. A few shuffles along lead to a film by Bono of U2, and then to a short look at the activities of 'guerilla gardeners' who roam London at night to plant flowers in run-down areas.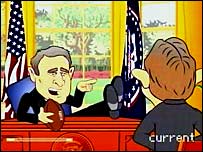 When questioned on how his political background might influence programming, Gore insisted: "This is not going to be a political or ideological channel in any way, shape or form. It is far more revolutionary than that." Nevertheless, the topical animation series 'Super News' must amuse him a little, especially the episode portraying the White House as a parody of The Office, The (Oval) Office. Other victims of the show's broad humour include Kevin Federline, Lindsay Lohan and Osama Bin Laden.
Gore added that the British launch was just the first of many in Current TV's expansion, so that "people can join the global conversation." The 39 million American homes that receive the channel could be the just the start.
Current TV is available on channel 29 (Sky) or 155 (Virgin). For more information, see the Current TV website
To contact the author: This email address is being protected from spambots. You need JavaScript enabled to view it.