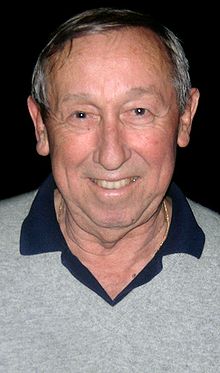 Roy Disney, nephew of Walt and general protector of Disney, has passed away. I was lucky enough to meet Roy in 2000 at the Belfast Cinemagic Conference, and it has stood as one of the more memorable encounters of my working life. I was quite nervous beforehand yet without need - he was warm and genuine in his convictions, unassuming with a quiet strength.

[Netribution, Dec 2000] Roy worked for the 'Mouse House' for over thirty years before Michael Eisner pushed him from the board [only to get his own back, pushing Eisner out in 2005 and bring Steve Jobs and Pixar back in]. Responsible for everything from Toy Story and The Lion King through to Wall*E, Roy is an unashamed lover of comedy and escapist family entertainment. In his only interview for online media, Roy talked with Netribution in 2000 about IMAX and the future of Fantasia, the problems with Dinosaur, the secrets of Disney's success, growing up in the shadow of Uncle Walt and his unfulfilled dreams of designing aircraft. He also talks for the first time about the then year's eagerly awaited follow-up to Toy Story/A Bug's Life - Monster's Inc. Roy's Irish routes are quite sincere - he owned a house near Cork where he spends a third of his year - and at the turn of the century the Disney clan found themselves in Ireland en route from France to the States
What brings you to Belfast?
Well we were asked by Shona McCarthy the best part of a year ago to become part of the festivals and over several months we found out more about it, then Shona came to Los Angeles - and she's tough - I couldn't help it really. I was really curious to come up here in any case, spend a little more time than the one day I was up here last summer.

I understand you have a home near Cork?
Yes, I've had that for about 10 years now and we try to spend 3 or 4 months there every year.

Do the Disney family have any Irish routes?
Yes, the name is actually French - it came from a little town in Normandy called Disigny, the name got corrupted and a lot of those people found themselves in Ireland on the way to the States. We have some pretty deep roots here, I married a girl named [Patricia] Daly who's older brother was the ambassador to Dublin back in '81/'82, during Reagan's years. That was the first time I came to Ireland - she was there and we fell in love, wound up buying a place and it's a pretty solid thing here.