Seven projects selected for Power to the Pixel Pitch, 15 October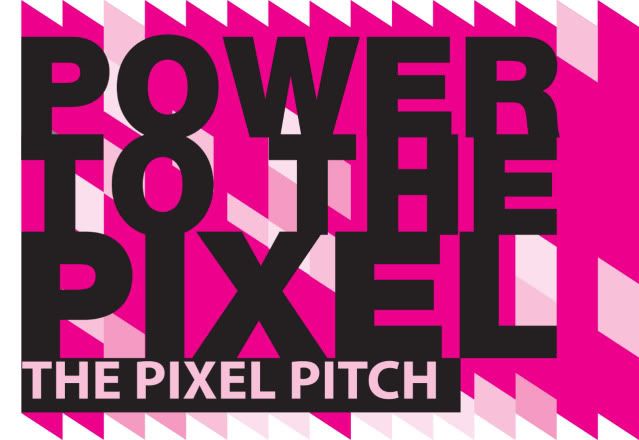 An all-star jury ranging from UKFC Premiere Fund head Sally Caplan to YouTube's Sara Pollock will judge the Pixel Pitch award for a cross media project, with details of the seven finalists now released and detailed below. One winner will walk away with the £6,000 Babelgum Pixel Pitch Award.
Tickets are now on sale for the event, which will accompany the Power to the Pixel conference, where a host of names from the Open Video Conference (including Brian Newman, Ted Hope, Nina Paley, Lance Weiler) along with Age of Stupid's Franny and Lizzie - will talk about digital marketing and distribution strategies for filmmakers.
Selected teams are:
1. Angels - film and TV series, ARG, live event
Producer: Matthieu Chéreau & Sandrine Girbal Production Company: Happy Fannie (FRANCE)
Happy Fannie combines the best elements of traditional narratives with online interactivity. The company is based in Paris.
Logline: Angel tells the story of René, a 583 year-old coach who teaches younger angels how to survive in the real world amongst humans. Narrated as reportage through Monsieur Dénarié, a TV reporter, this comedy unravels as a TV series and online game which will overlap into the real world.
2. The Alexander Wilson Project - film web series, live event, game
Producer: Krishna Stott Production Company: Bellyfeel / Visit Sheerport (UK)
Manchester-based Bellyfeel won the Jury and Audience Award at the 2008 Webby Awards for Crimeface, an interactive cross-platform film. Crimeface also won a BBC IPTV development deal at MipTV Content 360 in Cannes.
Logline: The Alexander Wilson Project is an interactive thriller for young adults and culture vultures of all ages.  Containing ACTION, INTRIGUE and multiple WOW moments, this high impact cross-media film serial will be played en masse by an entire generation and talked about for years to come.
3. Brand New-U - feature film, interactive web series, game
Producer: Janine Marmot Production Company: Hot Property Films (UK)
Hot Property Films was set up in 1995 by BAFTA award-winning team, producer Janine Marmot and writer/director Simon Pummell. The company's cross-platform project Bodysong won the BAFTA Interactive Award and a BIFA and was a Tiger Award nominee at the Rotterdam Film Festival.
Logline: Desperate?  Unhappy?  The company BRAND NEW-U offers a new identity, a life better than your own.  The price for a new life?  A single killing.  Brand New-U re-arranges the barest elements of a thriller into the looping logic of a nightmare:  because we must all kill our old selves to create ourselves anew.
4. The Dark Forest Game - documentary, multi-platform game for web and mobile, live event
Producer: Rachel Jacobs Production Company: Mudlark Production Company associated with NewTV (UK and Brazil)
Mudlark is a cross-platform production company incorporating a digital arts company, games company and a TV production company.
Logline: The Dark Forest Game is for the mobile, environmentally-conscious generation.  A game of forest management for mobile and web, using live data from two very different iconic forests.  Players find ways to protect the forests before the trees reach tipping point. The game is part of a larger multi-platform documentary project.
5. Heart of the City - feature film, web series, live event, ARG and video game
Producer: Karin Chien  Production Company: Desedo Films (USA)
Desedo films creates content for new media and minority markets, working with brands and agencies to craft strategy and tell stories. The company has produced content for Sony Pictures, Panasonic and HBO's True Blood and consulted for F500 brands.
Logline: What if Kanye West met Lord of the Rings? Heart of the City is a cross-media story set in the world of urban teens. When our heroes Jai and Sash find a magic talisman that unlocks their daydreams, NYC becomes a funhouse of mysteries and monsters, damsels and danger.
6. Slick - feature film, web series, live event, ARG, mobile
Producer: Benham Karbassi  Production Company: No Mimes Media (USA)
No Mimes Media brings you full media entertainment experiences. The award-winning team - Benham Karbassi, Steve Peters and Maureen McHugh - have between them worked on ground-breaking alternate reality experiences including Why So Serious? for The Dark Knight, Ilovebees, Year Zero (Nine Inch Nails) and 6minutestomidnight.com for Watchmen.
Logline: Slick is a transmedia experience combining film, live events, and interactive technology to create an alternate reality where the audience follows Ian, their disaffected guide, through portals into an alluring parallel world-but each trip increases the odds that this time they won't be able to find their way.
7. Third Rail - feature film, web series, game, mobile app, interactive blu-ray
Producer: Ryan Bilsborrow-Koo & Zachary Lieberman Production Company: Exit Strategy (USA)
Exit Strategy are the award-winning creators of the online series The West Side (http://thewestside.tv) which garnered international press (The Guardian, Der Spiegel, Spout) and won Best Drama Series at the Webby Awards 2008. Bilsborrow-Koo and Lieberman were named two of Filmmaker Magazine's 25 New Faces of Independent Film.
Logline: Third Rail is a murder mystery set on a New York City subway. The episodic story follows the form of a classic whodunit, but with the grit of modern-day New York City as a backdrop. The interactive series will launch simultaneously on several global platforms.
Confirmed jury:
Rosie Allimonos, Multiplatform Commissioning Executive, BBC
Omid Ashtari, Agent, CAA
Rachel Baker, Broadcast and Digital, Arts Council England
Guillaume Blanchot, Head of New Media & Video Game Department, CNC
Nicolas Bry, Senior VP, Orange Vallee
Sally Caplan, Head of Premiere Fund, UK Film Council
Peter Cowley, Managing Director of Digital Media, Endemol UK
Serena Cullen, Director of Drama & Comedy, Sony TV International
Christy Dena, Director, Universe Creation 101
Lizzie Francke, Development Producer, UK Film Council
David Garrett, President, Summit International

Adam Gee, Commissioning Editor, Channel 4
Ben Grass, Managing Director, Pure Grass Films
Ted Hope, Producer and Co-Founder, This is that corporation
Ray Maguire, President, Sony CE in UK, Ireland and Nordic
Ben Malbon, Managing Partner & Founder, BBH Labs

Karol Martesko-Fenster, General Manager & Publisher, Film Division, Babelgum
Sara Pollack, Entertainment Marketing Manager, YouTube
Michel Reilhac, Director, Arte France Cinema
Kelly Sweeney, Head of Original Productions, Bebo
Sara Tate, Strategy Director, Mother
Lance Weiler, Filmmaker, Story Architect and Digital Innovator
David G. Wilson, Head of Creative & Business Affairs, EON
Mark Wood, Co-founder, Krempelwood
Power to the Pixel's Cross-Media Film Forum returns to the Times BFI London Film Festival from 14 - 15 October 2009.

Register now online: http://www.powertothepixel.com/events-and-training/pttp-events/london-forum-2009/register