Raindance forecast with frequent spells of cool: Iggy Pop, Jean Luc Godard & The Clash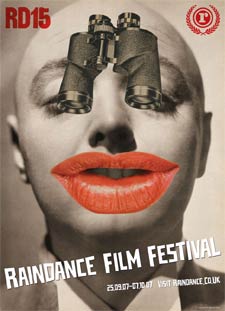 Raindance Film Festival, now in its fifteenth year, will take place from September 25 – October 7 2007 in London. Highlights include a Jean Luc Godard retrospective, curated by the man himself, a pitching panel headed by Ewan McGregor (see below) and a jury that includes Iggy Pop, Cannes & Oscar winner Andrea Arnold and Mick Jones (The Clash). The always excellent trailer (directed by last years short film winners, Edwin McGill and Kashmir Burgess) is now online...
(higher res file | youtube) Full details of the festival below.


Raindance has a reputation for its strong interest in music in film, and in the past has programmed some great rock'n'roll movies including Billy Childish Is Dead, The Devil & Daniel Johnston, Leonard Cohen: I'm Your Man, Neil Young: Heart of Gold, Get Thrashed and Brothers of the Head, as well as documentaries on The Ramones, Lambchop, Crass, Mission of Burma, Johnny Thunders, Einsturzende Neubauten, MC5, The Real Kids and the music of Jamaica.

Last Year's Jurors included Lou Reed, Anton Corbijn and Marky Ramone, who hosted a Q&A session after Too Tough To Die, a documentary on 2004's tribute concert to a dying Johnny Ramone.


THE FULL JURY LINE UP IS AS FOLLOWS

Iggy Pop is an influential musician whose career has spanned over thirty years. He broke onto the music scene with The Stooges in 1967, before going solo, releasing albums such as The Idiot and Lust for Life. Films include Jim Jarmusch's Coffee & Cigarettes (Raindance 2004) and John Waters' Cry-Baby

Penny Woolcock - Writer / Director whose films include the recent EXODUS retelling the story of Moses for our times, MISCHIEF NIGHT, THE PRINCIPLES OF LUST and THE DEATH OF KLINGHOFFER. She has also made documentaries for television including The Wet House and Shakespeare on the Estate. She's currently developing a musical about gangs in Birmingham.

Andrea Arnold was the recipient of the 2005 Oscar for Best Short Film for Wasp. Her feature debut, 2006?s Red Road, was the only first feature to be nominated for the Palm D'Or at Cannes and picked up the Cannes Jury Prize, five Scottish BAFTA's, two BIFAs, The Sutherland Trophy, Best British Newcomer at The London Film Critics Awards and The Carl Foreman Award at the UK BAFTA's.

Simon Channing Williams has produced more than 30 feature films, notable titles including The Constant Gardner and Brothers of the Head (Opening Night Raindance 2006). He has also enjoyed a long-standing partnership with director Mike Leigh, producing films such as Vera Drake, Secrets and Lies, Naked and All For Nothing

Oli Harbottle was the producer of the Raindance Film Festival for three years from 2003 to 2005. He is now the film release coordinator at Dogwoof Pictures, one of the leading art house distributors of independent film in the UK.

Jonathan Harvey an instructor of Cinematography at the NFTS and is currently in production on Amy Heckerling's new film

Mick Jones is a musician and music producer. He was the lead guitarist in The Clash, who were among the pioneers of the punk rock movement in the 1970s. He and the rest of the band were inducted into the Rock and Roll Hall of Fame in 2003. He has since gone on to perform with General Public and Big Audio Dynamite, while also producing both albums by The Libertines.

Sandy Lieberson was the president of 20th Century Fox from 1979-1980 and MGM International from 1989-1993. He is also a renowned film producer whose credits include Nicolas Roeg and Donald Cammell's Performance and Terry Gilliam's Jabberwocky.

Anthony Quinn has been a film critic of The Independent since 1998. Before that he was a film critic of The Mail on Sunday and arts editor of Harpers & Queen. He also writes for The Daily Telegraph and The New York Times.

Jemma Rodgers Founder of Junction films and BAFTA Award winning producer for The League of Gentlemen, Double Take for BBC2 and Murphy's Law starring James Nesbitt; Jemma has developed several scripts under the Junction Films label across both comedy and drama. These include the first ever produced original screenplay by Irvine Welsh and his screenwriting partner Dean Cavanagh, WEDDING BELLES.

Tessa Ross has been the Head of Drama for Channel 4 since 2000 and the Head of Film4 from 2002, combining the two roles in 2004 to become Controller of Film and Drama. Projects she has commissioned include This is England, The Last King of Scotland, The Motorcycle Diaries, The Road to Guantanamo and Shameless. Future releases from Film4 include Michael Winterbottom's Geneva, Harmony Korine's Mister Lonely and the adaptation of Monica Ali's Brick Lane.

Davide Scalenghe manages the VC2 (Viewer Created Content) Outreach department at Current TV. He started his career at CNN International, before moving on to work at TimeOut then subsequently MTV International, where he worked on shows such as The Osbournes and Queer Eye for the Straight Guy.

Brian Tufano is one of the UK's leading cinematographers. His work has included such significant films as Quadrophenia, Shallow Grave, Trainspotting and East Is East. More recent projects have included the teen drama Kidulthood and Amy Heckerling's forthcoming I Could Never Be Your Woman. He is currently filming an adaptation of David Hare's play My Zinc Bed, starring Uma Thurman and Paddy Considine.

Ed King Content Producer for Film and Video at MySpace UK & Joe Utichi- Editor of Rotten Tomatoes UK



OPENING NIGHT

WEIRDSVILLE Canada 90'
Director: Allan Moyle
Principal Cast: Scott Speedman, Wes Bentley, Taryn Manning
Short Synopsis: Stoners Dexter and Royce deal with drug debt, a heist, dead bodies, Satanists and dwarves and all in one slightly surreal night in Weirdsville


CLOSING NIGHT

PARANOID PARK USA
Director: Gus Van Sant
Principal Cast: Gabe Nevins, Daniel Liu, Taylor Momsen
Short Synopsis: A teenage skateboarder's life begins to fray after he is involved in the accidental death of a security guard.

THIS YEARS LINE UP

JEAN-LUC GODARD RETROSPECTIVE
After last year's successful Stanley Kubrick retrospective Raindance is honouring Jean-Luc Godard at this year's festival. The films on show have been personally selected by Mr. Godard himself and will be made available on the big screen.
ELOGE DE LA AMORE
NOTRE MUSIQUE
THE OLD PLACE

HOMEGROWN (UK)
UK Feature films (excluding Docs) highlighting the best UK indie films
THE INHERITANCE (screening with?)
EXHIBIT A
THE KILLING OF JOHN LENNON
SUMMER SCARS
WAZ

UNITED STATES OF EUROPE
Films from the European Union (excluding Docs)
URANYA
DRINK UP!
CHILDREN
PARENTS
RED LIKE THE SKY
ONE2ANOTHER
EX-DRUMMER
THE CREAM
VALERIE DOLINA
KENEDI IS GETTING MARRIED

JAPAN / S. KOREA
Films from Japan and South Korea (excluding Docs)
THE AMAZING LIVES OF THE FAST FOOD GRIFTERS
PRISONER
UNCLE'S PARADISE
IT'S ONLY TALK
M
WHAT THE SNOW BRINGS

GLOBAL CELLULOID
Every other feature film (excluding Docs) that isn't in one of the strands above. Films from Africa, Argentina, etc
BUNNY CHOW
THE BOOK OF REVELATION
LA ANTENA
THE DEVIL DARED ME TO
THE AMAZING GRACE
TURKS IN SPACE
DAYWATCH
BOG OF BEASTS

NORTH AMERICAN INDIES
Films from the US and Canada (excluding Docs)
DAY ZERO
CONGORAMA
THE HOTTEST STATE
BEING MICHAEL MADSEN
THE GOODTIMESKID
IN SEARCH OF A MIDNIGHT KISS
WEIRDSVILLE
PHANTOM LOVE
PARANOID PARK

DOCUMENTARY
THIS IS NOLLYWOOD
OH SAIGON / BOLINAO 52
YOKOHAMA MARY
BAKUSHI
IDENTITY
OFF THE GRID: LIFE ON THE MESA
TOVARISCH: I AM NOT DEAD
MANUFACTURING DISSENT
FLAMES IN THE LOOKING GLASS
U & ME & TENNESSEE
UP AT LOU'S FISH
SYMPHONY ORCHESTRA
TWENTY TO LIFE: THE LIFE AND TIMES OF JOHN SINCLAIR
FRANK & CINDY
SEX, FOOD, DEATH AND INSECTS
THIS IS SOUTH COAST SILVER JEW
For more info, please see www.raindance.co.uk