Nozstock Festival's Cinetent Final Call for Entries closes soon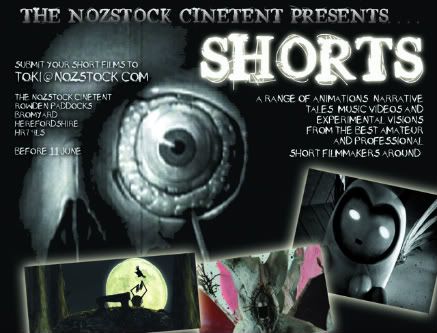 NOZSTOCK FESTIVAL'S CINETENT IS CALLING FOR SUBMISSIONS...
Deadline: 11 June 2010
Nozstock's resident cinetent showcases a collection of eclectic short films varying  through documentaries, live-action narrative tales, music videos, animations and experimental works. This year the homegrown programme will screen alongside work from BBC Film Network, onedotzero, locals Rural Media among others. Contributors to Nozstock's homegrown programme range from professional filmmakers to first attempt amateurs, the only specific criteria for qualification being that films are based around a strong original concept. The cinetent offers opportunity for up and coming filmmakers to be screened alongside established auteurs and programmes by ground-breaking visual distributors.
Submit your work as PAL .MOV or .AVI ideally (though DVD is accepted) including a brief synopsis, relevant information and contacts regarding the filmmaker/s >
Via downloadable link to: This email address is being protected from spambots. You need JavaScript enabled to view it.
Via snail mail to: Nozstock Cinetent, Rowden Paddocks, Bromyard, Herefordshire, HR7 4LS
Toki Allison: +44 (0)7866 451 949 / http://www.myspace.com/toxxxx
More info: http://www.nozstockfestival.co.uk/line-up/cinetent
Films will be shown over the dates of 9 – 11 July 2010.

Nozstock will consider family-friendly feature films for daytime screenings.

This is not a competitive festival however, your work stands to be seen by 5000 visitors.

Only successful applicants will be notified.

Filmmakers should ensure they hold rights to all performances, including music, for their films, and agree to allow Nozstock Festival to use the submitted material for it's screenings, and selected clips and images for related publicity.