New free carbon calculator for film production from Film London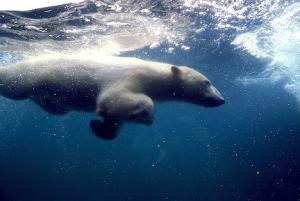 As Obama continues to walk on water with plans to cut car emmissions drastically, Film London - perhaps the UK's most pioneering screen agency - has released in Cannes its Green Screen plan, with a Carbon Calulator Excel file for calculating a film's carbon footprint. With Hollywood film productions producing more carbon than all LA air traffic, and London's screen industries producing 125,000 tonnes alone (the equivalent of 24,000 houses), the tool and its accompanying research (also available in Hindi, Arabic and Chinese) is long awaited.
In February, London announced a plan to make the city one of the greenest places to film on the planet, as part of a number of sector specific campaigns contributing to the Mayor's comprehensive London Climate Change Action Plan to cut the capital's emissions by 60 per cent by 2025. Like every other part of London life, the film industry has a role to play in the fight against climate change, showing leadership and setting an example to others. Some of the leading companies and names in the film, TV and commercial production sector are supporting the campaign including: UK Film Council, BAFTA, Equity, Ealing Studios, 3 Mills Studios, Pinewood Studios, the Production Managers Association, Advertising Producers Association, Producers Alliance for Cinema and Television, and the Production Management Association.
The Calculater is available to download here.
As an example of how quickly things are beginning to change, and how London's actions could have an domino effect - this time last year I was struggling to find a UK printer who used FSC (Forrest Stewardship Council) paper and card for our latest funding book edition (FSC means that something like 5 trees are grown for every one felled). A good printer was found at a good price - he sent a mock-up book, but switched the papers from FSC at the last minute so we had to ditch him. All the major printers - including Anthony Rowe, the big indie printers - were unable to help with FSC papers and we eventually found a company who mainly printed business annual reports, that could. We made sure there was a big FSC-off notice about the paper stock at the front of the book, and even told people not to buy a copy unless they had to. Anyway, a few weeks ago I received an email from Anthony Rowe saying that all their paper stocks would now be FSC. I received a book through the post yesterday as a belated birthday present and saw an 'FSC + Harber Collins' logo on the back cover. Even the Scottish Labour leaflet through the door this morning had an ugly FSC notice on it. Yes we can.