Roundup: Black Friday, the Development Fund, FESPACO, Adobe and Apple
I'm in the final throws of pulling together a new book so haven't time to post properly, but here's a round up of some of the latest stories..
The big story in the UK is the sudden closure of the GAAP tax schemes, which Martin Churchill of Tax Efficient Review claims could cost the industry some £2bn. While the Treasury argues the scheme was being exploited, the sudden closure without consultation or warning brings back echoes of the careless confusion and uncertainty surrounding the replacement to Section 48, with Variety naming the day of the announcement Black Friday. Prescience Film Finance's Paul Brett, who previously worked at the UK Film Council and BFI, told Screen Daily "We've got IFAs around the country that have been raising funding that we won't be able to use. That's terribly sad... A lot of UK films that were going to shoot over the next few weeks are going to fall apart". Films such as St Trinians, Brideshead Revisited and Genova were relying on GAAP funds for up to a third of their budget, and were set to start shooting shortly. Further uncertainty as to the status of films completed under sale and leaseback last year is also to be resolved as it seems the legislation inadvertently nulls the transitional arrangements from those films to the new system. The Inland Revenue announcement in full.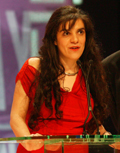 Heyday Films' Tanya Seghatchian (left), who famously brought Harry Potter to the attention of David Heyman and continued to produce it for Warner Bros, is joining the UK Film Council as Head of the Development Fund. She also produced Pawel Pawlikowski's My Summer of Love.
FESPACO, Africa's largest film festival, has awarded its top prize to Ezra, a film about a child soldier in Sierra Leone. Director Newton Aduaka, who picked up the $20,000 prize has long been associated with the festival, nabbing its best short film and best first film prize. Africa's actually been on my mind this week as I tried to learn more about finance there - and with the help of James MacGregor's well trained eye learned that a) there's not much money b) 70% of films distributed in Africa are American and c) the impressive looking African Film Commission, the nearest thing to a screen agency for any part of the continent I've been able to find is actually headquartered in LA.
While I remember it, Jonathan Letham's essay The Ecstacy of Influence makes me drool with envy for its lucidity on the subject of creativity as a gift, as opposed to a commodity (something I've also been thinking about in context of funding book 3, and my recent discovery of Lewis Hynde's The Gift). At its heart is as a discussion of how culture has always thrived from reusing, shaping, riffing and transforming creations. The Hollywood Reporter's Steve Bryant also speaks in favour of a remix culture with a more commercial angle: "Media that can't be manipulated is almost useles.. Online, I can track who watches my clips, who reads my posts, who liked my mash-up. The Internet flatters us with attention in a way Hollywood no longer can."
Adobe has announced a deal to offer a 'Premiere-inspired' web based video editor to members of image and video hosting service Photobucket. A web version of Photoshop is planned in six months or so. I picked this up from the recently discovered Unmediated - a regularly updated blog decdicated to decentralised media. Also in the tech world, rumors are flying that Apple may finally be opening up iTunes Movie Store to independent producers with a handful of titles appearing.
Finally, this isn't film related, but this tale of Billy Cottrell, a physics genius turned ecowarrior's treatment in a US prison is pretty moving - the guy has Aspergers and was kept in largely solitary confinement from the start of November until early this year - yet speaks with a rare courage in the face of cruel authority. Stephen Hawking amongst others are campaigning for his release and fairer treatment.

"Here we have our politicians, who are not charged with crimes, setting the planet on a disaster course for some fleeting political advantage, while others are sent to prison for taking a stance against this."