British Independent Film Award nominations announced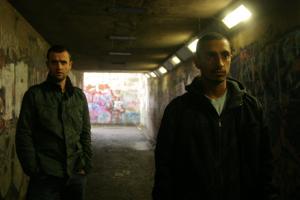 Steve McQueen's Bobby Sands biopic Hunger battles it out with Martin McDonagh's In Bruges, James Marsh's Man on A Wire, Danny Boyle's LFF closer Slumdog Millionaire and Shane Meadow's Somers Town in the nominations for the Best British Feature film at the 2008 BIFA Awards.
The films receiving the most nominations are Hunger and In Bruges tied with seven nominations each. Slumdog Millionaire follows with six, Shifty (pictured), one of the first from the Film London Microwave slate, receives five nominations, Somers Town, Son of Rambow and The Duchess hold four nominations each. Other films with multiple nominations are The Boy in the Striped Pyjamas and Happy-Go-Lucky both receiving three, and Man on Wire, The Daisy Chain, Eden Lake and The Escapist receiving two each. There is an unprecedented number of twenty-three other nominated films throughout the categories.
The 11th awards ceremony will take place on Sunday 30 November at the Old Billingsgate Market in London and will be hosted by James Nesbitt.

First time BIFA actor nominees include Colin Farrell, Kristin Scott Thomas, Sienna Miller, Vera Farmiga, Asa Butterfield, Alexis Zegerman, Sally Hawkins, Michael Fassbender, Liam Cunningham, Brendan Gleeson, Riz Ahmed, Daniel Mays, Dev Patel, Ayush Mahesh Khedekar, Bill Milner, Hayley Atwell, Will Poulter and past Variety Award recipient Keira Knightley.

This year sees repeat nominations for actors Samantha Morton, Eddie Marsan, Emma Thompson, Kelly Reilly, Thomas Turgoose - who is the youngest ever Best Actor nominee - and Ralph Fiennes who receives a double nomination this year in the Best Supporting Actor category. As well as a few behind the camera nominees, such as directors Danny Boyle and Shane Meadows and cinematographer Anthony Dod Mantle.

The BIFA pre-selection committee (of 70 members) viewed more than 150 films, out of which they selected the nominations
Elliot Grove, founder of Raindance and the British Independent Film Awards says: "The nominations reveal an unparalleled number of new and young film talent across the various categories. Together with more established film industry names, these nominees mark a refreshing eleventh year."
BIFA Directors, Johanna von Fischer & Tessa Collinson say: "We are delighted to be able to highlight such an eclectic range of new British film talent this year with the pre-nomination debut director category being the most competitive BIFA has ever had. We are also proud to honor two outstanding British acting talents and careers with The Richard Harris and The Variety Awards."
From his breakthrough role in Mike Leigh's Naked through to his most recent role as the Father in this year's BIFA nominated The Boy in Striped Pyjamas, David Thewlis, a nominee in BIFAs inaugural year 1998, will be honoured with the Richard Harris Award for Outstanding Contribution by an Actor. Also this year, The Variety Award for bringing the international spotlight to the British film industry, goes to the star of Frost/Nixon, Michael Sheen.

BIFA's new jury is comprised of sixteen professionals and talents from across the British film industry including: Producer and Chair, Simon Relph, Actresses Anne Marie Duff and Eva Birthistle, Actors Mark Strong and Christopher Simpson, Director Joe Wright, Photographer/Director Rankin, Writer/Director Paul Andrew Williams, Writer Abi Morgan, Producers David Lawson, Gina Carter and Cat Villiers, Xavier Marchand Distributor (Momentum), Casting Director Shaheen Baig, Agent Tor Belfrage and Col Needham, Founder and Managing Director of the Internet Movie Database.

BEST BRITISH INDEPENDENT FILM
Hunger
In Bruges
Man on Wire
Slumdog Millionaire
Somers Town

BEST DIRECTOR
Sponsored by The Creative Partnership
Mark Herman – The Boy in the Striped Pyjamas
Steve McQueen – Hunger
Danny Boyle – Slumdog Millionaire
Shane Meadows – Somers Town
Garth Jennings – Son of Rambow

THE DOUGLAS HICKOX AWARD [BEST DEBUT DIRECTOR]
James Watkins – Eden Lake
Rupert Wyatt – The Escapist
Steve McQueen – Hunger
Martin McDonagh – In Bruges
Eran Creevy – Shifty

BEST SCREENPLAY
Sponsored by BBC Films
Enda Walsh, Steve McQueen – Hunger
Martin McDonagh – In Bruges
Simon Beaufoy – Slumdog Millionaire
Paul Fraser – Somers Town
Garth Jennings – Son of Rambow

BEST ACTRESS
Sponsored by M.A.C
Vera Farmiga – The Boy in the Striped Pyjamas
Samantha Morton – The Daisy Chain
Keira Knightley – The Duchess
Kelly Reilly – Eden Lake
Sally Hawkins – Happy-Go-Lucky

BEST ACTOR
Michael Fassbender – Hunger
Colin Farrell – In Bruges
Brendan Gleeson – In Bruges
Riz Ahmed – Shifty
Thomas Turgoose – Somers Town

BEST SUPPORTING ACTRESS
Emma Thompson – Brideshead Revisited
Hayley Atwell – The Duchess
Kristin Scott Thomas – Easy Virtue
Sienna Miller – The Edge of Love
Alexis Zegerman – Happy-Go-Lucky

BEST SUPPORTING ACTOR
Sponsored by Tiscali
Ralph Fiennes – The Duchess
Eddie Marsan – Happy-Go-Lucky
Liam Cunningham – Hunger
Ralph Fiennes – In Bruges
Daniel Mays– Shifty

MOST PROMISING NEWCOMER
Asa Butterfield – The Boy in the Striped Pyjamas
Dev Patel – Slumdog Millionaire
Ayush Mahesh Khedekar – Slumdog Millionaire
Bill Milne – Son of Rambow
Will Poulter – Son of Rambow

BEST ACHIEVEMENT IN PRODUCTION
Sponsored by Recorded Picture Company
The Daisy Chain
The Escapist
Hush
Shifty
Telstar

RAINDANCE AWARD
Clubbed
Flick
One Day Removals
Zebra Crossings

BEST TECHNICAL ACHIEVEMENT
Sponsored by Skillset
Wardrobe – Michael O'Connor – The Duchess
Cinematography – Sean Bobbitt – Hunger
Editing – Jon Gregory – In Bruges
Music – Harry Escott, Molly Nyman – Shifty
Cinematography – Anthony Dod Mantle – Slumdog Millionaire

BEST DOCUMENTARY
Sponsored by Chapter Media
A Complete History of My Sexual Failures
Derek
Man on Wire
Of Time and The City
Three Miles North of Molkom

BEST BRITISH SHORT
Sponsored by Dailymotion
Alex And Her Arse Tuck
Gone Fishing
Love Does Grow On Trees
Red Sands
Soft

BEST FOREIGN FILM
The Diving Bell & The Butterfly
Gomorrah
I've Loved You So Long
Persepolis
Waltz With Bashir

THE RICHARD HARRIS AWARD (for outstanding contribution to British Film)
Sponsored by Walt Disney Studios Motion Pictures
David Thewlis

THE VARIETY AWARD
Michael Sheen

THE SPECIAL JURY PRIZE
Announced 30 November 2008

Proud supporters and patrons of BIFA include Tilda Swinton, Ray Winstone, Mike Figgis, Tom Hollander, Adrian Lester, Ken Loach, Ewan McGregor, Samantha Morton, Bill Nighy, Trudie Styler, Meera Syal and Michael Winterbottom.

BIFA would like to thank its Sponsors: UK Film Council, BBC Films, Chapter Media, The Creative Partnership, Dailymotion, Film London, M.A.C, Raindance, Recorded Picture Company, Skillset, Soho House, Tiscali, Variety, Walt Disney Studios.
ELIGIBILITY CRITERIA 2008
A film will be eligible for an Award if:

· It is intended for theatrical release, AND has had a public screening to a paying audience either on general release in the UK OR has screened at a British-based film festival between 1st December 2007 and 30th November 2008.

· Where there is any major studio substantially funding a film, the total budget must not exceed £10M ($20M).

· It has been produced or majority co-produced by a British company OR is in receipt of at least 51% of its budget from a British source or sources OR it qualifies as a British Film under the DCMS guidelines AND includes sufficient creative elements from the UK.

· BIFA also consider foreign independent films for the Best Foreign Independent Film category. Foreign films must have a British theatrical release during the eligibility period stated above.

· Films that have been entered previously are not eligible. Re-issues of previously released films are not eligible.

· All films submitted for consideration will be viewed by the Advisory Committee with the help of a nominated screening panel. The Advisory Committee will then decide the nominations by ballot.

· All nominated films will be viewed by the Jury. The winners will be decided by a secret ballot. In the case of a tie, a deciding vote will be cast by the Jury Chairperson.

· The Special Jury Prize will be decided entirely at the Jury's discretion.

· The Douglas Hickox Award is to be given to a British director for their debut feature film. The estate of Douglas Hickox shall present a cheque for £500 to the winner.

· British Short Film Award submissions: Any British short films that have won an award between 16th October 2007 and 15th October 2008 are eligible for consideration. A short film must be no longer than 40 minutes (including credits).

· Feature films must be no less than 70 minutes in length.

· The Richard Harris Award for Outstanding Contribution to British Film by an Actor (male/female) to be decided by the Advisory Committee with the input of the Harris family.

· In 2003 the British Independent Film Awards introduced a new award for Best British Feature Documentary. Eligible films must be non-fiction. They should be photographed in actual occurrence, or employ partial re-enactment, stock footage, stills, animation, stop-motion or other techniques, as long as the emphasis is on fact and not on fiction (further eligibility criteria as with other feature films above).

· All films must be submitted for consideration by September 22nd 2008.

· Under exceptional circumstances, inclusion and consideration of films which do not strictly comply with the above criteria will be subject to the discretion of the British Independent Film Awards Advisory Committee.

For more information on BIFA rules please go to www.bifa.org.uk