LFF Preview: Black Swan
Darren Aronofsky's Black Swan will screen tonight at the London Film Festival's Jameson Gala. Starring Natalie Portman, Vincent Cassel, Mila Kunis and Winona Ryder, this drama/horror is set in the physically and mentally demanding world of New York ballet.
Never thought that a film about ballet would have you on the edge of your seat? Think again. It's less about ballet than about perfectionism, competition and control - the last word comes up again and again. Nina (Portman) is too controlled a dancer, says her over-attentive director, Tomas (Cassel), but, in fact, she is losing control of everything in her life.
Aronofosky - whose impressive back catalogue includes 2008's Oscar-nominated The Wrestler, Requiem for a Dream and Pi - said in the press junket after today's screening that he wasn't really thinking of mental issues or drug abuse when making the film, although these issues do inevitably surface. For him, the film is a reworking of the most famous and tragic of ballets, Swan Lake. It is both the ballet performed within the film and the source material that gives the film its structure.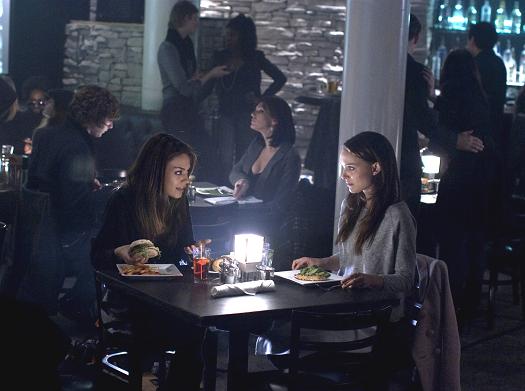 However, his comment about the film not being about these more serious problems seems disingenuous. Yes, there is the strange to-and-fro that Nina - the perfect, ice-cold White Swan - has with her opposite number, the sensual Lily (Kunis), who seems tailor-made for the Black Swan role. The colours of their clothes off- and on-stage reflect this. But then, how about Nina's infantilisation? On the one hand, Tomas wants Nina to seduce him, to prove that she has the passion to play the Black Swan - well, if he'd hold off for a minute, maybe - but on the other, she remains very childlike, still sleeping in her pink bedroom at her mother's apartment, surrounded by cuddly toys.
Nina's innocence stems from the fact that she hasn't grown up. She has a dancer's underfed, undeveloped physique, the perfect ballerina body. However, she's also quite childlike mentally, and it's clear that this is a problem for her dancing, but also for her ability to cope with the overbearing people who surround her. Tomas, well, Cassel said today that he based the character on a "jerk," and the amount of power he has over Nina's career, while still playing with her emotions, is scary. Nina finds Lily both terrifying and yet comforting - in one scene, she rescues Nina from the most horrifying character of all, Nina's controlling, pushy ballet-school mom (played by Barbara Hershey).
Nina's mother gave up dancing aged 28, to have her daughter. Sometimes she speaks of the career that she might have had; Nina has heard it all before, though, and, one night, bitterly snaps, "You were 28!" She needs not say anymore - we've seen from the downfall of Beth (Winona Ryder), Nina's predecessor as prima ballerina in the company - that age is a ballerina's worst enemy. 30 is pushing it (but bear in mind that Portman and Kunis were 28 and 26 respectively when making the film last year). 
With all of these pressures upon her, added to suggested bulimia and the sheer physical exhaustion of ballet dancing, is it any wonder that Nina cracks? So on the one hand, this is a fantastic and chilling re-imagining of an old tale. It also works as a psychological piece - although Aronofsky seemed to shy away from discussing this element today - charting the breakdown of a talent pushed too far without support.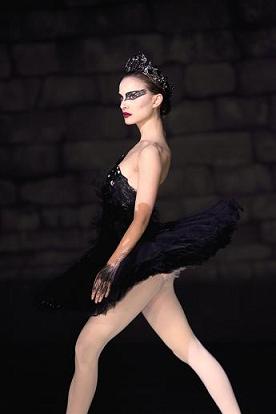 Sympathy for Nina aside, this film also delivers the shocks. Watching films at 9am often has a soporific effect upon this reviewer, but not with Black Swan. Oh no. There's violence, blood, feathers appearing under the skin - but the most frightening aspect is the blurring of reality and imagination. Like Nina, we start to lose track of what really happened and what's just in her mind, who's really in the room, who's on her side and who's out to get her. Aronofsky achieves this with great sleight of hand, as well as a thundering soundtrack that could've been toned down a little - we get it, THIS IS SCARY. And it is. 
Black Swan screens at the London Film Festival tonight and is out in UK cinemas in February 2011.