Chris Rogers: From panto dames to internet auditions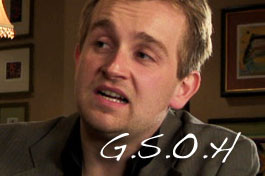 Chris Rogers found his latest role through a website. He signed up to Bethemoviestar.com , which he was sure was "a hoax, an absolute hoax." Luckily for him, it wasn't. A 30-second clip of his acting was all that was needed to bag him a role in a series of mobysodes called GSOH. It's also led to his first feature film role, in Rapture.
Suchandrika Chakrabarti met up with Chris in the BFI cafe to find out how he got from pantomime dame roles to feature films, while playing the odd Nazi along the way...
I was writing lyrics, and there's a message in there that you're hoping someone will get. It's the opposite with acting - the story's the thing 29-year-old Chris calls himself "a mutt of the world." He has moved every five years of his life, owing to his microbiologist dad's career taking the family all over the place. Born in Germany, he has lived in Hawaii, South Dakota, Liverpool and now London. As he puts it, "I guess it broadened my horizons, in comparison with my German friends, who I was to see again, ten years later, when we moved back."
His first love was music, and he had worked on seven albums by the time he was 20. He enrolled at the Liverpool Institute for Performing Arts (LIPA) to take a singing course in 2000, but soon moved over to acting. He fell in love with acting, which he sees as having a very different impact on the audience: "When I was a musician, I started writing songs, so I was writing lyrics, and there's a message in there that you're hoping someone will get. It's the opposite with acting - the story's the thing." The band he used to play with at LIPA now work with a little-known lady named Sandi Thom , who was at college with Chris.
After graduation, Chris found himself playing the Evil Prince in the first-ever theatrical production of Frank Zappa 's musical, Thing-Fish. The production was put together by some of his LIPA friends, and they got the rights, from Zappa's widow Gail, to stage two-thirds of the play.
The role gave him the confidence to go for auditions.  He got a call after sending off one application, which simply went: "Are you German? Can you speak German? Okay, you've got the part." He was cast in a BBC documentary called Days That Shook The World, appearing in segments named "Christmas Truce" and "Kristallnacht." So came the first of many offers of Nazi roles. As he says, he wasn't surprised by the offer a Nazi role: "Are you kidding me? I'm six foot one, blonde and blue-eyed. I speak German!"
Although Chris had a great time on the BBC set - with particular praise for the director Nic Young - he says that "the next couple of auditions I went to were basically for Nazi parts, which I really wanted to avoid." That all changed when he was called back to an audition and asked if he would mind wearing a dress. He ended up playing a panto dame, moving on from Nazi roles to an archetypal English role and so avoiding any possibility of typecasting.
A failed audition actually gave Chris the encouragement to keep plugging away at the acting:
So I sat there and learnt 36 pages of script by heart In 2004, I got a call there from a casting director called Debbie McWilliams . She said that there was a casting for a stage version of When Harry Met Sally, she was looking for an understudy. Then she asked where are you and I said "Germany." She replied, "Oh sorry, I need someone who can be here the day after tomorrow." I said, "No problem, I'll check with the airlines now." She sent me a script and I googled her and found out all the amazing stuff she'd done, casting James Bond and so on. So I sat there and learnt 36 pages of script by heart.

So I didn't hear back after a few days and figured I hadn't got the part. Then I got a call two weeks later from Debbie. She said, "Chris, by now I guess you know you didn't get the part." It was amazing that someone called me back and said that. She went on to say, "I just want you to know that you did a really good audition, stick with it". And I was like, thank you. So that was when I started getting cocky! I started sending out really cheeky letters to agents then, mentioning the phone call. I found my current agent, a hearty lass from Liverpool. She said all the right things.
Chris recommends working in theatre to hone your craft. The skills you learn there are useful even for film work. As he says, "The smallest gesture means more in film, can add to make up your character. Jim Carrey's very theatrical and makes that work onscreen - Steve Martin's another." Chris went to the Cambridge Shakespeare Festival in 2004, where he spent two months working with 42 other actors in the plays. The following year, he also wrote and staged a one-man play about a couch potato, "a man who;s so lonely, he starts speaking to the carton of popcorn next to him... it was one of the best experiences ever!"
However, working in theatre brings a lack of showreels and a little frustration. Chris started auditioning for short films, and landed his second Nazi role in Footsteps. The strength of the story attracted him to a role that he would usually avoid.
So, to find more film roles, he signed up at Beamoviestar.com. By simply posting his showreel clip online, has got work on the mobysodes and the part in Rapture. His very next project, though, is acting in the 48-Hour Sci-Fi Film challenge . Working with a director he met through this year's Berlinale Talent Campus , he has as little idea as anyone else of what to expect. He was cast in a more conventional way this time, going along to an actual audition. Shooting commences this Saturday, and it's unlikely he'll be playing a Nazi or a panto dame...
To contact the author: This email address is being protected from spambots. You need JavaScript enabled to view it.