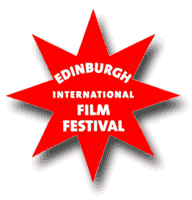 Billed as an Icelandic One Flew Over The Cuckoo's Nest, Fridrik Thór Fridriksson's Angels of the Universe tells of Paul (Ingvar E Sigurdsson) an angst stricken poet, artist and thinker, jilted by love and left on a descending spiral of violent despair and eventual schizophrenia.
Paul is a modern day Raskolnikov, tormented by dreams and ideas. Within the cell-like wallls of his bedroom he paces back and forth, playing the drums or filling vast canvasses with Daliesque sprawls. 'I'm not a human' he tells his muse, Sara (Halldora Geirhardsdottir) 'I'm a cloud in pants'. Paul finds comfort in the words of Macbeth: 'Life is but a tale told by an idiot, full of sound and fury, signifying nothing.' Living with his parents, he entertains his younger siblings with elaborate stories, and fun filled games.
But after being dumped by his social climbing girlfriend, who stands him up at a screening of Chaplin's City Lights ('I wouldn't have minded if it was any other film. But City Lights?'), Paul swiftly falls into neurosis, violent rages, and eventual schizophrenia. Finally his parent's reach their limits and section him at the local asylum. Heavy viewing indeed, but lightened by the sensitive handling of Paul's fellow inmates. Oli Beatle (Baltasar Kormakur) claims to have written all of the Beatles songs, transcribing them telepathically, while Victor (Bjorn Jorundur) gives a surprisingly sympathetic portrayal of a neo-Nazi. On one occasion, after the suicide of fellow inmate Paul (Hilmir Snær Gunarsson) Victor takes the inmates out to a lavish dinner at one of Rekjavik's most expensive restaurants. Signing the bill Adolf Hitler, he tells the bemused waiter that they are all escaped inmates and that the police should be called immediately.
Fridriksson's direction is well paced and balances the dark and light elements of the script with care. Harald Paalgard's photography is particularly strong, displaying a rich range of colours that reflect well against Iceland's often bleak landscapes. Although the film occasionally risks falling into cliché – Paul's shaving of hair and frequent rubbing of head being well-worn signifiers of madness – it largely manages to deal with the issue sensitively and without judgement. The hallucination and ghost sequences also appear somewhat incongruent in an otherwise realistic aesthetic.
Adapted from Einar Màr Gudmundsson's award winning novel, Angels Of the Universe is a harrowing yet humorous rites of passage between the lines of insanity and genius, dreams and reality. These themes are summed up by Paul, who in retort to criticism that his ideas bear no relation to reality, quotes Hegel, 'poor reality; it must feel bad'.
Dir: Fridrik Thór Fridriksson, Iceland-Norway-Sweden-Denmark-Germany, 2000