Leeds Int Film Festival gets underway with Bright Star, Men Who Stare at Goats
The Men Who Stare at Goats and Keats biopic Bright Star opened the 23rd Leeds International Film Festival - the UK's largest film festival outside London and Edinburgh - last night. The writer of the book behind the movie, Jon Ronson joined fans at the screening at Leeds Town Hall. The festival, extended to run eighteen days this year, and the UK's largest outside of London and Edinburgh, is packed with new films, documentaries, special guests and events. Running across five strands, highlights include new films from the Coen Brothers (A Serious Man), Julian Temple (Oil City Confidential), Hiayao Miyazaki (Ponyo), Harmony Korine (Trash Humpers) and Catherine Breillet (Bluebeard).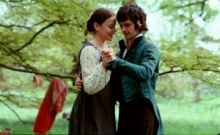 Also screening is Colin, the £50 Britsih zombie movie that has wowed critics and the Bunny and the Bull from the Mighty Boosh director Paul King. The Cinema Versa strand returns featuring the best of documentaries covering music and human rights, while the Fanomonem fantasy strand delivers horror, action, sci-fi. Events include a Film Music Conference and an Open Cinema Unconference which we are helping to organise (more details to follow). During the first weekend at the Festival guests include include Julien Temple (Oil City Confidential), Éric Tessier (5150 Elm Street), Philip Ridley (Heartless), Marc Price (Colin), composer Ilan Eshkeri (Film Music Conference), Tom Six (The Human Centipede), Benoit & Julien Decaillon (Sodium Babies), and Felix Van Groeningen (The Misfortunates).
Official Selection
New cinema discoveries, exclusive previews, archive specials and the Golden Owl competition
Official Selection is the backbone of the Film Festival highlighting new work from the most talented filmmakers from around the world, previews of new features by some of the greatest directors working today alongside exclusives from exciting new talents. There will also be a series of archive screenings to mark the 20 year anniversary of the fall of the Berlin Wall featuring some of the best German films from the last two decades. Alongside the film screenings, there's an exciting line up of special events, guests and Q&As Look out for the new films by Jane Campion (The Piano), the wonderful Bright Star based on the life of romantic poet John Keats, the fantastic new Coen Brothers' comedy A Serious Man and the anarchic and extraordinary Trash Humpers from Harmony Korine (Gummo, Mr Lonely). The Golden Owl Competition provides a fascinating overview of some of the most exciting new cinematic talents from around the world from the wonderful, oddball French comedy The King of Escape to the dynamic and emotional Israeli drama Seven Minutes in Heaven.

Cinema Versa
Acclaimed documentary section specialising in music, environmental and human rights films.
Cinema Versa is like an underground festival within a festival, the home of radical documentaries, exciting live events and maverick voices with two leading themes: music and human rights. The new official festival bar, the Nation of Shopkeepers will host a series of performances and gatherings, from Video Love, an ingenious blend of live music and film collage, to a hip hop artist-DJ battle. Music films represent a broad diversity of styles from a world music journeys to Africa (Throw Down Your Heart) to indie (Todd P Goes to Austin), and classical (In Search of the Messiah) and veteran rockumentary auteur Julien Temple appears for a Q&A with his new film on punk progenitors Dr Feelgood, Oil City Confidential. Human Rights, activist and environmental films screen alongside informative workshops and panel discussions, encouraging viewers to get involved in local campaigns for progressive social change. Earth Days, a history of the environmental movement, is accompanied by a talk by Friends of the Earth and Some Voices precedes a panel discussion on mental health. Also featuring a season of classic films from the East European Underground in partnership with Second Run.
Cherry Kino
Experimental films with the theme 'Revolting Bodies'
Cherry Kino is dedicated to curating and presenting 'wondermental' films – experimental films which fill you with, and make you, wonder. Despite the proliferation of mainstream cinema, wondermental films continue to be made – gorgeous, radical, poetic, challenging, political, artisanal and dreamlike films which are very hard to find being shown in the UK. The theme chosen for this year is 'Revolting Bodies', playing on the double meaning of 'revolting' – bodies can repulse and they can incite revolution, they are constantly (r)evolving. 3 short film programmes present an array of vibrant, magnificent films – made without using a camera lens; showing bodies in various situations; and reminding us that the earth's core is molten lava, constantly revolting. Wondermental features abound too, from collages of early cinema found footage, tales of self-mummification, a radical and disturbing Super 8 work, the new vision of a blinded artist, and a stunning hand-painted ode to nature. Canadian artist filmmaker Alex MacKenzie will hand crank his handmade film and hold a cine film Rayogram workshop, and finally, two medium length avant-garde films from the 1920s by Germaine Dulac – the first Surrealist film with the prototype for feminist cinema - with live music.
Short Film City
Dedicated short film section including UK and international competitions
Short films are the seeds of cinema, the world's filmmaking talents grow through making them, and the first shoots of cinema itself were in their form. A fact known to very few filmgoers, the city of Leeds was the location for the first ever moving images, produced in 1888 by Louis le Prince who disappeared mysteriously three years later before he could patent his inventions. Short Film City celebrate the achievement of the French pioneer through the Louis le Prince International Competition, this year presenting six programmes of outstanding visions from new and emerging talent. Animation and experimental shorts have their own international competition programmes, and on the Short Film City Finale Day of 14th November the selection of UK and Yorkshire short gems are revealed. Outside of the competitions, Short Film City 2009 presents three special selections: the major Romanian Retrospective, the work of the famous National Film School of Łódź in Poland, and African shorts from the last ten years. The Short Film City Pass is only £25, a great value way to explore the world of shorts.
Click here to visit the dedicated Short Film City website.
Fanomenon
Fantasy Film celebreation - the best new horror, action, sci-fi, animation and Far Eastern cinema
Fanomenon is a unique combination of great fantasy cinema experiences, both light and dark, that cannot be found together anywhere else on the planet. American science fiction, Japanese anime, Korean mainstream comedy, French extreme horror, Swedish thrillers, British zombie flicks – Fanomenon is full of the most wanted films of the year. In 2009 Fanomenon will have a dedicated website (coming soon), an expanded programme of worldwide marvels, an opening world premiere (5150 Elms Way), and terrifying line-ups for the hugely popular Night of the Dead and Day of the Dead. Fanomenon is also the UK home of the Europe-wide Melies Competition for fantasy film, and this year has the best-ever selection with the likes of Human Centipede, Heartless, and Sodium Babies set to shake up audiences and jury members. This year's Far Eastern selection includes cult crackers (Chaw, Two in Tracksuits), bold action films (A Frozen Flower, Searching for the Elephant), hit comedies (Crush and Blush, My Girlfriend is an Agent), breathtaking animations (Summer Wars, Angel's Egg, and Miyazaki's Ponyo), and Love Exposure, a one of a kind just like Fanomenon.