17th Raindance Film Festival Open For Submissions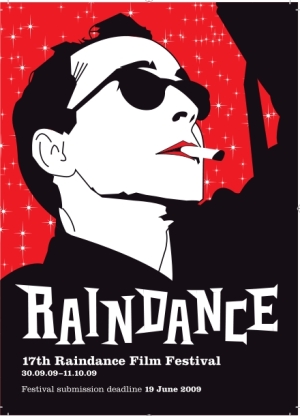 17th Raindance Film Festival
30 September - 11 October 2009

OPEN FOR SUBMISSIONS The 17th Raindance Film Festival is now open for submissions. Raindance is the UK's leading independent film festival and takes place annually in London's West End.

Raindance showcases features and shorts made by independent filmmakers from all around the world to an audience of film fans, journalists, acquisition executives, actors, producers and directors. Nearly 2000 films were submitted for last year's festival, of which just over 200 were screened. Festival admissions were up over 40%.

Films can be submitted via Withoutabox.com, the world's first site dedicated to film festival submissions. Simply visit the Raindance page at Withoutabox, create a login name, fill in the info about your film, submit an online press pack, and send us your DVD in the post. Alternatively, go to the Raindance website, download, fill in and send us the submission form.

Eligibility Guidelines

- The film must have been completed after 1 June 2008
- Films must be independently funded (ie - without financing from major studios such as Dreamworks, Warner Bros., etc). Regional screen agencies & local councils are acceptable.
- The film can be of any length and of any genre. Any film between 0-49 minutes will classify as a short, anything thereafter will classify as a feature. Submission fees will be worked out on the basis of running time
- The film must not have appeared on British television

Deadlines:
1 May - Early Deadline
1 June - Late Deadline
19 June – Withoutabox-only extended deadline

More about the Raindance Film Festival

The Raindance Film Festival brings the very best in independent and world cinema to London for twelve hectic days and nights in September & October. Specialising in edgy and alternative cinema, the festival has grown to become the biggest of its kind in the UK.

Films that have made a splash at Raindance include Pulp Fiction, The Blair Witch Project, Dead Man's Shoes, In Search of a Midnight Kiss and End of the Century: The Story of the Ramones. Every year we show a diverse selection of shorts, documentaries and fiction features. Many of these are UK premieres, giving audiences the chance to see cinematic gems before they reach the mainstream or graduate to cult legend.


The festival has hosted such guests and filmmakers as Christopher Nolan (The Dark Knight, Memento), Shane Meadows (Dead Man's Shoes, This Is England), Ken Loach (Kes, The Wind That Shook The Barley), Marky Ramone (The Ramones), Iggy Pop, Anton Corbijn (Control), Mick Jones (The Clash), Andrea Arnold (Red Road), Adam Yauch (Beastie Boys), Quentin Tarantino (Pulp Fiction, Reservoir Dogs), Faye Dunaway and Lou Reed.

Festival Awards

Festival Jury Prizes are awarded in a number of categories, such as International Feature, UK Feature, Debut Feature, Documentary and the Audience Award. There are also a number of short film prizes.

For more information contact This email address is being protected from spambots. You need JavaScript enabled to view it.