You're not a film student: what are you studying?
Philosophy and Psychology, believe it or not.

Is film a recent interest for you, or is there a reason you have chosen to study other subjects first?
If you want to be a filmmaker, you need to have something to say in your films. I decided that going straight into a media degree wasn't the best way to find my voice. And I've been exposed to some mind-expanding ideas at university. Think of The Matrix and Terminator 2: the premises of these films are taken straight from philosophy.

Er… the philosophy of the money-spinning sequel?
Terminator 2 is about time travel, which we've study in philosophy. The Matrix is the philosophical problem of if you were a brain in a vat and there was no real world, how would you know?

What is your background in film?
I didn't exactly distinguish myself in art at school, so my first real creative experience was a one-year Foundation Diploma in Media Art that I did when I was 18. You had to study graphics, photography, art history and life drawing (which I was useless at) as well as film and video, and I think it's important to have a broad range of skills. Since then, I've been trying to develop my knowledge of filmmaking while at university, for example by joining industry societies and my local video access centre.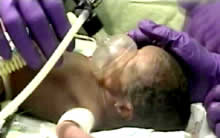 What kind of film work have you been involved in before?
I've shot a couple of fairly simple 5 - 10 minute skits with students from an acting school. If you ever want to direct actors, you should know about acting yourself. And acting schools are great places to meet helpful actors! I've also done a little bit of freelance work. I taught myself to use a non-linear edit suite and 3D computer graphics software about five years ago, and that sometimes earns me some pocket money.

Did you go to America planning to make Baby Lazarus?
I knew that the university I was visiting had a film department (unlike my university at home) and that they'd be running a documentary class during my visit. I went out there determined to get on that course and to make the most of the opportunity.

How did you manage to get yourself invited into the hospital?
Hah! That's a bit of funny story. I'd never been to the US before, and I was sitting in the sauna at the gym on my first day in the country thinking I don't know anyone, how the heck am I going to make a film?. I knew I had to make some contacts fast, so I introduced myself to the other guy sitting in the sauna right then and there! It turned out he was a retired doctor, and that he knew a colleague who was interested in filmmaking. He wrote an email introducing me to this colleague, Dr. George Little. George became my mentor at the hospital, producer of the film and a good friend.

How long was the shoot?
A couple of hours a day for about six days. I had to get it finished for a class deadline, you see. But you can't just go into a hospital ward and whip out a camera. I went on rounds with the staff half a dozen times before I started filming, and spent a bit of time there to ease myself into the environment.

What did you learn from shooting in such an environment?
In a word: professionalism. I was acutely aware that the people in the baby intensive care unit did not need me there. Thinking to myself "You're a professional now, make sure behave like one," gave me the confidence to film in the unit and to engage with the staff and parents. It didn't interfere with my feelings about what I was filming.

Do you see your future in documentary filmmaking?
Not exclusively. What I'm interested in is storytelling. Fiction, documentary and animation are all related ways of telling stories on screen, and they borrow techniques from each other (and would probably be more interesting if they did so more often: that's why some of Oliver Stone's movies are so eye-opening). Baby Lazarus looks the way it does because I structured it and filmed it like I would a fiction project. There's no conflict there with making it true to real life.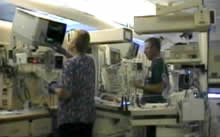 What role did you want music to play in Baby Lazarus?
Music was vitally important. I wanted to explore a particular issue; the use of technology in caring for premature babies, but with only a week to film I couldn't just hang around the unit waiting for all the things I wanted to explore to just happen. And there was a lot of stuff that was relevant, that I would not have wanted to film, even if it had happened.

The film needed a narrator. But I didn't want a voice of authority telling you what to think. Then it occurred to me to make the narrator a newborn baby. He wouldn't need to say very much, just steer the story in the right direction. Because he was fictional, I could make the narrator have some kind of incident in the middle of the film, which changes the tone. And I wouldn't have to film anything like that for real.

I really didn't want it to seem corny - a newborn baby narrator that talks. So I chose to have the narrator talk using just short captions that fade in and out, accompanied by a musical voice that gives you the idea of being talked to without hearing any words. The music also supplies much of the emotional quality of the film; it's vaguely haunting.

How did you meet Stewart?
He's my second cousin twice removed. He's a very creative person who's been making music for most of his life, and my Gran used to play me albums he'd done when I was a boy. I was one of his biggest fans, and now I'm a bit older I get to work with him!

What is your next project?
For some months now I've been working on a ten-minute drama with a first time writer, which we've just submitted to a production scheme. It's a contemporary fairytale about a vengeful Grannie trying to protect her granddaughter from someone she's met by email. I'm really pleased with how the script has turned out, and I hope we'll make it onto the shortlist.


Morna then asked Stewart about his evocative music for Baby Lazarus:


How did your interest in composing for film develop?
I was in a band called Tranceport with Bobby Gillies who was doing some composing for film and I got involved in helping him with sound design on a few projects. That was about four or five years ago, I think. It was a natural step from there into doing the music as well.

What have you worked on previously?
Way back I did sound design for Walls Have Ears by Betty Bastai and Any Place But Here by Richard Jordan. I even contributed some last minute voice talent to Running Away by Keith Bowman. I did the music for The Honest Men by Andrew Niven which won second prize in the Galloway Film Challenge and I'm working on some ideas for his new one, Forgotten Toys, which I'm really looking forward to. I've helped Joseph out with his Pet film and one or two other projects including Baby Lazarus. I did some music for Morna Findlay's Halloween film but I've yet to see how that one turned out.

What are your musical and cinematic influences?
I grew up in the age of progressive music and moved onto Kraut rock. At sixteen I discovered Frank Zappa and he has probably had the biggest influence on me in term of concept and approach. I'm currently listening to people like Tortoise, Bill Laswell and Paul Schutze. I recently discovered Mogwai too.

I've been really inspired by the way Carter Burwell approaches scoring for film and as a result I'm into the Coen Brothers in a big way just now (but then isn't everyone?) I want to learn how Burwell does it and then do it myself. I have a growing film collection but my tastes are pretty unsophisticated. I like films that have a lively tempo. I don't like long exposition or grandiose, lingering shots. Let's get on with the story! My favourite film of all time is Forbidden Planet. Check out the soundtrack to that one!

Did you see Joseph's footage before you started composing?
No. I didn't see a single shot until the film was edited and my music was in place.

How did you collaborate together on Baby Lazarus?
Joseph was in America and I was in Edinburgh so good communication was key to the process. When Joseph gave me the basic scenario I didn't get the feel of what he was after at all at first. I was thinking more of Panorama or Horizon, you know, that very straightforward style of documentary making. I was thinking "incidental music" but what Joseph wanted was a much more fundamental role for the music. He wanted the music to play the same role as it would in a dramatic piece. So, because the ideas that are explored in the film are very emotive, the music had to hold the hand of the audience as they watched the story unfold. It can't tell them what to think about what they are seeing but it allows them to feel something about it.

Once I had that concept in place it was just a matter of getting some material together that would serve the purpose and tweaking it to fit the approximate cues that Joseph had given me. I think Joseph did the music proud by giving it room to breathe. The main theme develops incredibly slowly for a piece of music in a short film and the sections where it's used really do feature it in a way that I haven't really seen very much in documentary film making.

What role did the technology play in the process of working together?
It allowed us to do it in a time scale that would otherwise have been impossible. The whole thing was done very quickly and there was a deadline to work to. I had MP3 files whizzing over the ocean on a regular basis. The files were quite big and I remember sending emails overnight and all sorts of shenanigans.

The whole thing was done in the digital domain. The music was recorded and mixed and processed on my PC using various nifty bits of software and then compressed down to MP3 and sent as emails. This is all commonplace these days of course but I was brought up recording onto cassette and reel to reel. The modern way of working is so liberating by comparison.

What's your next project?
Oh, lots of things. As I said, I'm developing ideas for Andrew Niven's Forgotten Toys film which starts shooting in May. I'll be working with Joseph again soon on one or all of a number of ideas, if he'll have me! He's been working with you on a couple of your scripts he finds interesting, so I hope to get involved there.

Apart from film work, my oldest pal is a science fiction writer and I'm going to be doing some music to accompany his first book, Shadowkings, which will be published in July. The very next thing I'll be working on will be finishing the mastering of my new album which is called Sonic Party Hat. It's a departure for me because it's a song based album (although there are
instrumentals on it). Oh, and I'm writing a bit of literature too. Just for fun.