How did you meet?
Toby MacDonald: Luke (Morris) and I met through mutual friends and I was at school with Luke (Ponte).
Is this your first film together?
Luke Morris: This is our first film. Toby and I had wanted to do something together for a few years and Luke (P) had an idea for a character who smoked while he brushed his teeth.
Can you give us a brief history of its creation?
TM: Luke Ponte emailed us the script from LA where he was working as a stand up comedian. As soon as we read it we knew it could be great. We started working on it straight away - in the end it took us about four months of development to get it all right.
Tell us a little bit about the production
LM: We scraped together enough money just to shoot the film at first then raised the money for post with the rushes. The total budget was about £15,000. The shoot lasted four days in May of last year and we shot on 35mm black and white Kodak stock.
Tell us about your motives for a French New Wave spoof.
TM: It's more of a homage than a spoof - LP thought it could be very funny.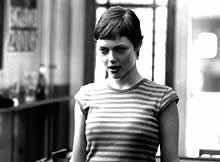 Luke Ponte: It just seemed like a nice convoluted idea, an Englishman who thinks he's a French man who thinks he's an American. We feel there is nothing funnier than French people using English expressions, with the possible exception of monkeys dressed as Sherlock Holmes.
LM: There's also the idea that he had seen too many movies - the cinema has taken over his life - I think we certainly felt that was a pertinent topic!
LP: It's wish fulfilment.... a cowardly idiotic guy who watches too many movies who has a beautiful girl fall in love with him for no apparent reason, you work out in the film what you can't in real life
TM: Also we wanted to use London as a character in the film - London appears in disguise as Paris.
Which films inspired you aesthetically?
TM: All the New Wave films that we watched for research especially Breathless, Jules et Jim and the 400 Blows. The black and white photography in those is more black and grey and that is what we were after. We also used their means of shooting - handheld and fast. Our DP Nic Knowland used a camera that Godard had designed with Aaton. Their style fitted our means perfectly.
How do you think Je t'aime would stand up against them stylistically had you made a serious, dramatic genre piece?
TM: Strange question. I think if we had to made something serious then we would not be being interviewed here. It would have been awful - pretentious, boring.
On speaking to audience members after the screening, a number were slightly dismissive of yours, perhaps commenting on how original a successful short must be. How would you respond to those comments?
TM: It's fine if they think that - as long as it is funny we don't care. And I think that it is an original short - the structure is unconventional, it's ambitious, it isn't seen through the eyes of a small child.
How has the film fared so far in terms of festival screenings and awards?
On the first screening it won the TCM short film competition at the London Film Festival and it's nominated for Best Short at the European Film Awards at the end of the year. It got a special mention from the Jury at the Berlin Film Festival, was nominated for a BAFTA and was the only British film selected for the Cannes 2001 Director's Fortnight. Just before that it won the Kodak short film showcase. It's opening the 50th Melbourne International Film Festival and playing in Karlovy Vary and Galway this month. We haven't screened in the US yet but hope to sometime soon.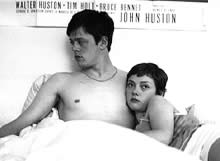 Have you managed to get it regularly screened anywhere?
TM: It is going out on 16 screens on the 13th of July, playing in front of the Swedish film Together.
How did you set that up?
LM: I loved Lukas Moodysson's first film Fucking Amal so went to see Together with Toby at the LFF last year. It's a brilliant film...beautifully observed and very, very funny and it seemed like a good film to go out with. We approached Metrodome who agreed to distribute it and then went to Short Circuit who are helping us pay for the release.
What are your plans now and where do you see yourselves 5 years from now?
TM: We are doing another short this summer. In 5 years time we will hopefully have had the chance to make a couple of features together. They will be comedies.
Je t'aime John Wayne is released on nation-wide on Friday 13th July with Together