What's your own background as a filmmaker Alexander? From where did Denial spring?
I started as an online editor in London, eleven years ago and moved onto specialising in Henry/ Editbox in 1995. I have been working freelance in this capacity ever since. Henry is a non-linear editing and compositing tool used mainly for effects work with a lot of painting, colour-grading and graphics work involved. I have also directed and produced various TV projects over the years as well as working in theatre many years ago.

I have always wanted to make films and feel slightly sheepish to have taken this long to get my first off the ground - but, better late than never.

In 1999, my resolve changed and I realised that standing around in bars talking about making films and slagging off other people's efforts was not going to get me anywhere, apart from further entrenched in my own bitterness. At this time, with many half-finished script ideas in my bottom-drawer, the story of Denial popped up and I realised this was the one to make. Two years later, I am in a position that I can actually be proud of.

And Slack Alice Films, tell us about them.
Slack Alice Films is a limited company - originally set-up to process my own freelance editing and design work. It also gave me a proper platform from which to produce films. The company has optioned a published novel which I am looking at developing into a feature. The most important thing is that all the money I earn through the company can be spent on filmmaking without troubling the taxman - apart from my own meagre living-expenses of course.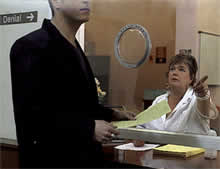 What ís the story of the film then? Give us an outline of Denial
Denial is the story of Rod Clapham, who visits a GUM clinic to find he has contracted a sexual disease from his girlfriend. He is in total denial about how this could have happened and is blissfully unaware of the implications of this to his girlfriend's fidelity. Two months later, Rod finally confronts the truth in a very public situation.

The project was entirely self-financed on what you describe as a miniscule budget. How much does a filmmaker need to raise to get a 35mm short or even a feature into the can? Are we talking Mariachi prices here!
Denial is ten minutes long and cost £6,000 to produce and a further £4,000 to post to 35mm print. If you multiply these figures by nine, you could theoretically produce a 90-minute 35mm feature for £90,000. I'm not sure I would want to embark on this idea!!! Then again, with all the economies of scale involved - give me 100K and I'll make a feature on 35mm for you.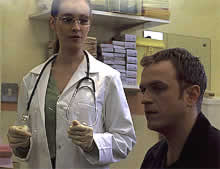 The budget I quote is absolutely the truth including food and all pre-production expenses. I think some filmmakers can be very creative with the figures when it comes to quoting budgets.

I had a choice - £10,000 - put a deposit down on a house or make a film. I made a film.

How did you go about casting the film? What qualities were you looking for?
Rod Clapham, the lead played by David Brooks, has about eighty percent of the dialogue and has to carry the film from start to finish. After we lost a very big named actor for the lead role, Associate Producer, Alison Aylen suggested I do a proper casting with casting director Gillian Hawser and this immediately brought a level of professionalism (and reality) to the whole production - it was by far the most important day other than the shoot days. David Brooks jumped out as being able to do the part as I envisaged.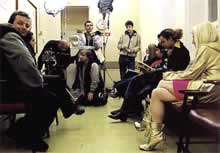 You are clearly pleased with David Brooks performance. How does he come across on screen in Denial? A tricky question for someone who has seen the film about three hundred times!
I didn't want to go over the top or to stereotype the role so as many people as possible could relate to him - I think we succeeded there. We could have brought more comedy or anger out, but my bottom-line was realism with a hint of the surreal. The character of course has a dark side that is very important to the film - without this it would have been a sham. I don't think anybody in his position would react any differently to how he does in the film and I think it is this that makes it real. I didn't want to make him a "new man" or a "bastard" and most especially not a "mockney geeeezer"; in fact if the roles were reversed and Rod was a woman I would have made the same film (give or take a few expletives).

I also think that by NOT having a name-actor as the lead allowed me as a first time director to experiment a lot more than otherwise. This I now see as being very important and formative in my experience. It can be a difficult film to watch - but I hope it stays with you. If that is true, we have succeeded.

Crewing-up can always prove tricky, particularly if there ís no budget. Who headed up your departments and how did you find them?
Duncan Telford was the DP and is a very old and good friend - we are currently plotting our next salvo on the film industry. Catt Baum produced the shoot and brought a top-quality crew with her - even Jay Arthur, a superb 1st AD and surely one of the funniest names to have on a credit-list. I approached Catt over the internet after having seen her CV on a database - she liked the script and off we went. We produced the film from my flat over three weeks.

Mark Larkin, the designer and Hattie Ouroussoff, the costume designer both worked absolute wonders for a combined budget of £300. All crew were found by word-of-mouth and I wouldn't suggest any other method.

Locations? Obviously there was no money, so where did you shoot?
Two days in a local disused hospital (which was one of the highest production costs) and a day in one of my favourite pubs which is both very characterful and served well for the wrap party afterwards especially as the receptionist in the film is the proprietress of the pub!!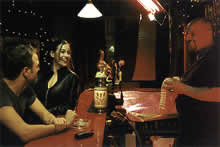 The trend in low budget seems to be shoot digital, to keep front-end costs down, transferring to 35mm print at the end, for screening copies. You have gone for 35mm film throughout. What made you choose that route?
I am now the proud owner of a 35mm print which is the only format that most cinemas will show. Although expensive at the front-end, it generates excitement on set and provides the added carrot to the crew of working on a 35mm production. For one print, it is much cheaper in the long-run if you are going for cinema release, which was my intention. To aim at multiple screening copies is a little ambitious at this stage. 35mm also looks better on the big screen.

You teamed up with the Genesis to screen Denial and they've teamed it to support Bridget Jones's Diary in a 500-seat cinema. You must feel quite pleased! How did you go about getting their support?
The Genesis believe in promoting independent filmmakers which is brilliant. Cinema owners have a unique perspective on the industry through running a business which has to remain liquid by getting bums on seats. When Denial was originally seen at the Genesis as part of a showcase of East-London filmmakers, it went down very well. I think that is the bottom line - people enjoy it.

You worked with the Short Film Bureau, whom we know well at Netribution. How did they assist you with your marketing effort?
In all respects. When I planned the film I bore in mind the SFB golden rules of getting your film seen; Less than 10 minutes, 35mm, original music, good film. They have proved to be an ally for which I am incredibly grateful - it can be very lonely out there. They also understand the business of the short film; the whys, hows, whats etc. I'd recommend them to anyone.

You also praise the Tower Hamlets Film Office and Peeping Tom's. How are they involved with the project exactly?
The showcase was organised by Peeping-Tom's and Tower Hamlets Film Office.

You describe Denial as a dark comedy. Do you feel UK audiences receive that kind of comedy well?
I'm about to find that out!!

Do you have plans for more cinema screenings, with an independent chain perhaps?
Perhaps. I'll see what comes of this first. I couldn't have hoped for more from my first real film and perhaps it is time to end on a high note and get on with financing the next one. Having said that if anyone wants to show it they are more than welcome.

What about the festival circuit? Where do you hope to get it screened?
The festival circuit is something of a mystery to me. I think comedy, even if it is black comedy with a serious message, is a tricky one for festivals. Because Denial is a very dialogue-driven film, it will be difficult for foreign festivals to show. They tend to like a stories-in-pictures which is fair enough for an international audience.

My main priority was to produce a film that could be seen as a slice out of a feature film and I think we have achieved that. A lot of festivals celebrate the art of the short film as an entity separate to features. This is perhaps not the best method of training directors who want to move into features, which is of course, my long-term aim.

Suppose I came to you with a really good short script, a black comedy, say. Would you go about shooting it the same way as Denial, or would you do anything differently?
I would like more shooting-time. Enough time to do prelights for example, so that we are not rushing between set-ups with no rehearsal time. And no short-ends!! There are some takes in Denial that were way over three or four minutes and this helped with the continuity of mood and atmosphere, however, a couple of times we missed some really good material because the film in the mag ran out too soon. At one time, the camera guys were juggling with six or seven cans of guess-the-length short-ends. Not good.

And what do you plan as a follow up to your success with Denial, what's next on Alexander Snelling's horizon?
I have two short scripts ready to go (8 - 10 minutes). Both unique in their own way and very different to Denial. I need to find some money to get these rolling and I hope this will be a little easier second-time round. Patience is my mantra. I also have five-cans of 16mm in my fridge so if me and Duncan are in a crazy mood one day, we might just go and make a film completely guerilla style and have a laugh - who knows, we might make a classic.

CAST
Rod Clapham - David Brooks
Doctor - Eva Pope
Clinic Receptionist - Vicki Pengilley
Barman - Darren Clark
Seedy Loiterer - Jules Briscoe

The film will supporting every performance of Bridget Jones Diary starting on Wed April 11.
Genesis Cinema, Screen One.
93 - 95 Mile End Road
Stepney
London
E1 4UJ
Tel: 07075 010000

denial@slackalicefilms.co.uk