Dawn Sharpless
Peeping TOMS/Lovely Productions
Previous to producing with Peeping TOMS Dawn worked as: Assistant Producer, Researcher and Events co-ordinator. Dawn started off in the theatre as a stagehand and front of house assistant before working in Paris and London for Disney, Buena Vista, Mainstream, Celluloid Dreams, Union Pictures and Lifetime Productions International. She studied in London and Paris for a degree in French. Dawn attended a production training course at the Halfway Production House in London and this led to a position at the First Film Foundation where she assisted with the final selection of films to be taken to the US.
Peter K Smith
Peeping TOMS/Lovely Productions
Prior to working with Peeping TOMS Peter has worked with director Naomi Seekings and screenwriter Clifford Thurlow. Past work has included short stories and sketches and more recently script-reading for My Uncle From America. Peter is now working on his first screenplay an adaptation of Gogol's "The Nose".The other volunteer organisers are: Lisa Sabbage - Journalist, Wendy Bevan Mogg - Head of marketing at Artificial Eye (and fellow Netributioner), Lisa Carlon - 'Media Babe', Clifford Thurlow - Writer & Terence Doyle - Writer.
Give us a brief history of Peeping Tom's.
Pete - Peeping Toms started almost 8 years ago in a little place on Gerrard St. called The Clinic and it was started to help people in film, that's still what we do but it was to get people together to network. That was always the original ideal.
Dawn - The guy who started it all, he's a director now, was called Caprice Kea and he was involved in all these organisations that started up in '93, I'm not quite sure why or what it was about '93. He was involved in the New Producers Alliance and he's on their board of directors, he started it as a club in a clubby venue for people to network but he got more and more involved with other projects and was directing a film called The Hurting. So Francoise Lamy and Thomas Hamilton took over and started to deal with the programming, they got the venue at The Arts Theatre Club and started the regular Q&A sessions, Francoise then brought in the screenings every now and again. We are the 4th team and started the screenings at the Global Café and made it a monthly spot in our calendar.
How much has it changed since you've been involved?
Well we've been involved since September '98 by meeting Francoise Lamy and Emmanuelle Fournier purely by chance on a production course in Clapham called Half Way. Pete - So we started going to the club, it was the week that Simon Beaufoy (writer - Full Monty) spoke and was about to go to Cannes with The Full Monty, it was absolutely packed out.Dawn - It was one of those things that I'd always seen in Time Out and promised myself I'd go but it was always on a friday evening, changing it to wednesday evenings was something we changed quite quickly. The club has changed with each different team, Francoise did it in her own way for 4 years, John and Emmanuelle did it for a year. We are trying to take peeping Tom's on to another level, I mean today I've had calls from Televisual and Creation and from Total Film because they want to list our events regularly.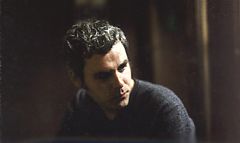 Do you seeing it growing to a point where you'll have to find a larger venue?
Well we've already found one where the programming will be done by Peeping Tom's, we'll collaborate with Cinephile which is based in London and Paris and who showcases music video and film, them and another venture called Rapid Eye Cinema who are a little more experimental. We'll be able to pool the resources, contacts and audiences of 3 organisations for one big event per month at a venue that I can't disclose yet! It will be in Soho, its a fantastic venue, on the last Thursday of every month but we'll be able to say more about that next month.
Pete - Basically the club is getting more profile than before. This year alone we've been featured on websites a lot, reviewed by Total Film and we've been covered by Film Four.
How did that feel?
It was scary, it was our first time on TV but not the last.
Dawn - During the day it was fantastic because we'd got hold of all the directors who's films were to be shown that night, every half an hour they were interviewing all the directors and we organised that. I really loved doing it and to do the piece on us was fine but when we saw it I was really serious - I suppose you look and act differently on screen. Its really helped a lot, people are always referring to it. I met someone from the Film Council last night at a Women In Film & TV event, she'd heard about PT's purely from the piece on Film Four.
What's your background Peter?
I studied history at university and fell into university administration like a lot of people do but there is always this thing in the background which is film and writing as well, I'm told I'm quite a good writer. I've started writing non fiction articles about film and I'm trying to adapt a few short stories to scripts at the moment. It might take a while because there is only so much time in the day.
When did your passion for film begin?
It started when I saw E.T. I should think, I've always watched films but its living in London I think. People sometimes forget that you can do anything you want here, there is so much here and so many opportunities, so much support. That's what we do. Rather than calling us an Indie film club we just try to help new filmmakers make their films.