What can the films submitted to 8 1/2 be about?
Peter Mullan - It should be drama but we are trying to encourage people to be as experimental as possible and encourage them to use new technologies as well. We are keeping it as open as possible: traditional and experimental. A lot of short films go really badly wrong when they start out because when they are getting money they are also getting agendas. This year they are supposed to be making films about The New Scotland or Scotland in the Millennium, that's always deductive and that's what we are trying to avoid. Whatever thoughts or ideas you've got in your head and you reckon it can be done in 8 and a half minutes in any way you choose to do it and its something that we can relate to, we'll take you through the whole process to get it made. If you think it can be made for £500 and it is within 8 and a half minutes then we want to see it. Its also about allowing filmmakers to discover their filmmaking voices.

Even middle aged filmmakers?
Mullan - Exactly, I never say young filmmakers, I say new filmmakers. I wasn't particularly young myself when I started!Mike Figgis - I was ancient. I was 38 or 39, something like that. Thank God, I can. The toughest thing you can do is to become a filmmaker at 21 and God forbid that your film would be a hit, its the end of the line for you. Then you become a 35 year old has-been.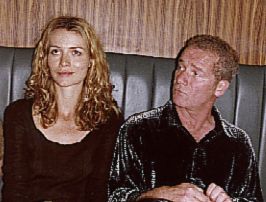 Mullan - You could be a very rich 35 year has been! (laughter)
Did you make short films Mike?
Figgis - Yeah, I love short films I really do. When I first started making films I got a camera, went off to New York and I shot a short film there which I just stuck on the stage of my theatre group. Anything shameless! (laughter)Mullan - How many did you make?Figgis - 3 or 4, I made a pretty wacky one in Madrid but none of which I will ever show you.Mullan - Oh man!Would you go back to making them again?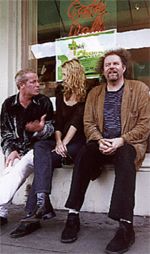 Mullan - I'd love to go back to making shorts.Saffron Burrows - I just did one with Neneh Cherry.Figgis - And its damn good I hear.Mullan - I think the problem is that once you've made a feature, its not like you are barred from making a short but personally I wouldn't feel comfortable taking money from a new filmmaker because I wanted to make a short film. Once you've started making features you've got to self finance or find companies, I don't think you have the right to enter into schemes - they are there primarily for new filmmakers. Its annoying for me because it'd be great fun to make a short again. It would be like coming from the premier league to play 5 a side.