How did Amulet come about?
We are both actors with 20 years of experience between us. We've always loved films and been fascinated with the filmmaking process. We'd made a couple of films on Video 8 for our own entertainment with some of our actor friends which Simon then edited at home on the computer. In January 99 we started to learn as much about feature film making as possible, our intention was to follow the standard route and make our first low budget feature. First we wanted to expose some film so we made our first short on 16mm "The Essay" in March 99 and then things steadily progressed from there. Once we were committed to the idea of becoming filmmakers we decided to do it in the best possible way so we set up Amulet Films Ltd in the summer of last year and started developing some ideas. We owe a lot to Kenneth Branagh - a meeting with him in July 99 introduced us to Jamie Payne (director of "The Dance of Shiva") who inspired us to make "Ghosthunter" the way we made it. Rather than put the money into what would be another low- low budget feature we could make a high budget short.
Tell us about your current short, 'Ghosthunter.'"Ghosthunter" was shot on 35mm in January 2000 and is a high quality short feature that brings together the talents and experience of some of the greatest names in cinema with some of the most exciting up-and-coming new talent. We also started to call it a short feature rather than a short film. This was an important distinction because it's feature filmmaking that we are interested in. We felt that if we set up the film and the whole production of the film as close to feature filmmaking principals and practices as possible - we would benefit more from the process than trying to make a low-low budget 90 minute film.Written and produced by us, directed by Simon, and starring Frank Finlay and Alison, "Ghosthunter", a 20 minute ghost story, has been an extraordinary learning opportunity for all involved. Freddie Francis ("Glory", "French Lieutenants Woman", "The Straight Story") agreed to be our Consultant Cinematographer for the film supervising Gavin Struthers, NFTS final year student, winner of the Freddie Francis B.S.C. Scholarship. Maurice Gillett, Freddie's regular gaffer with over 40 years of experience, worked with Freddie and Gavin on the film. Rodrigo Gutierrez ("Plunkett & Macleane", "Gladiator") and Trevor Coop ("Star Wars Episode 1") were the camera operators for "Ghosthunter" on location and at Pinewood Studios respectively. (They are two of the most highly respected camera operators in this country.) Peter Lamont ("Titanic", "Aliens", "The World Is Not Enough") was our Production Design Consultant. He supervised the work of Luke Smith on the design of "Ghosthunter".Barrington Pheloung ("Hilary & Jackie", "Truly Madly Deeply ", "Inspector Morse") is composing the music and the sound editing for the film is being supervised by Mark Auguste ("The End Of The Affair", "Elizabeth"), who is working with his son Sam Auguste. We have sought advice and instruction from Kenneth Branagh, David Parfitt, Robin O'Donoghue and Jamie Payne. One of the most exciting developments has been a book commissioned by the publishers Focal Press. Called "How To Make Great Short Feature Films - The Making Of Ghosthunter" and written by Ian Lewis, the book follows the whole process of making a high quality short film, and will be published in autumn 2000.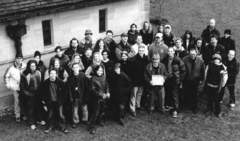 Also the "Ghosthunter" project has been documented with a "making of" documentary which is being produced for Film Four. We are delighted to be receiving sponsorship from Quantel, who are supplying all the special digital effects, and Pinewood Studios, who provided a sound stage for the production. We have also received invaluable support from Panavision, Kodak and VFG Lighting. The finished film aims to challenge the boundaries of short filmmaking with an end product that will be of the highest possible quality.How did you manage to gain the assistance of so many successful industry players?We simply asked them! We put together our wish list from some of our favourite films, we rang them up, told them about the project and what we hoped to achieve, sent them the script and took them out to lunch! They were all very supportive and keen to give something back to the industry.How could these people advise you throughout the production?With their wealth of experience it was fantastic to be able to turn to Freddie Francis and say "how could we achieve this look?" or to Mark Auguste and ask "What would you like us to consider when we record sound?". This saved us lots of time when we came to shoot "Ghosthunter".