Details of new Cultural Test for British Films and transitional arrangements confirmed
Revised guidelines appear to no longer require film to be shot in the UK or have UK cast and crew to qualify as 'British'

Details of the new cultural test for qualifying British Films for new tax relief were announced Thursday as well as transitional arrangements for films set to . At first examination and seemed to suggest that the new system potentially would allow any film meeting just four key criteria would qualify as British:
- Film set in the UK
- Lead characters British citizens or residents
- Film based on British subject matter or underlying material
- Original dialogue recorded mainly in English language
Which appears to allow a Disney production of Oliver Twist, for example, shot in Poland or LA with an American cast and crew to still qualify as British (although because tax relief is only available on UK spend, the film would not be eligble for tax relief). Details of the new points system and transitional arrangements follow.
Transitional arrangements for films shot before Dec 2006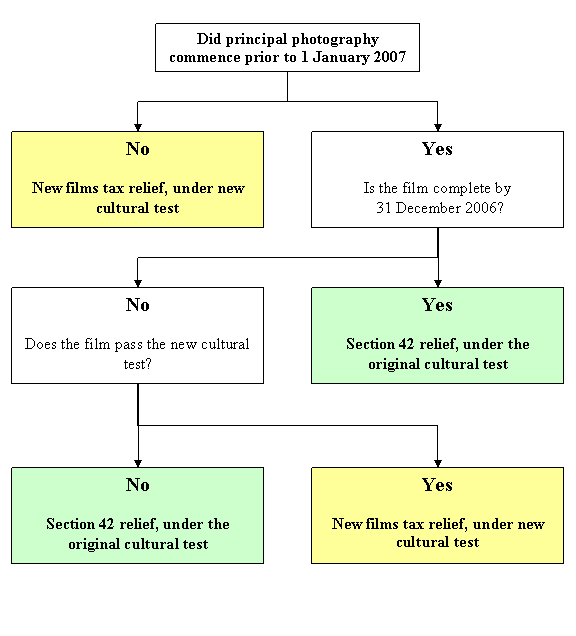 The Cultural Test
Full cultural test guidelines available from the DCMS

| | | |
| --- | --- | --- |
| | Revised Cultural Test | Revised points |
| | | |
| A | Cultural Content | |
| A1 | Film set in the UK | 4 |
| A2 | Lead characters British citizens or residents | 4 |
| A3 | Film based on British subject matter or underlying material | 4 |
| A4 | Original dialogue recorded mainly in English language | 4 |
| | Total Section A | 16 |
| | | |
| B | Cultural Contribution | |
| | Films contributes to the promotion, development or enhancement of British culture in the areas of cultural diversity, cultural heritage and creativity | 4 |
| | Total Section B | 4 |
| | | |
| C | Cultural Hubs | |
| C1 | Studio and/or location shooting/ Visual Effects/ Special Effects | 2 |
| C2 | Music Recording/Audio Post Production/Picture Post Production | 1 |
| | Total Section C | 3 |
| | | |
| D | Cultural Practitioners | |
| D1 | Director | 1 |
| D2 | Scriptwriter | 1 |
| D3 | Producer | 1 |
| D4 | Composer | 1 |
| D5 | Lead Actors | 1 |
| D6 | Majority of Cast | 1 |
| D7 | Key Staff (lead cinematographer, lead production designer, lead costume designer, lead editor, lead sound designer, lead visual effects supervisor, lead hair and makeup supervisor) | 1 |
| D8 | Majority of Crew | 1 |
| | Total Section D | 8 |
| | | |
| | TOTAL ALL SECTIONS (pass mark 16) | 31 |