Hull's Short Glimmer of Light : 15th - 20th April 2008
The 6th Hull International Short Film Festival returns with a new name and attitude from 15th April. The debut festival from director Laurence Boyce, Netribution DVD editor, and one of the most passionate people about short film in the UK, GLIMMER will provide audiences with the very best new short films from across the world alongside numerous special events and exclusive guests, including a BAFTA masterclass with one of the UK's hottest short directors of the moment, Simon Ellis.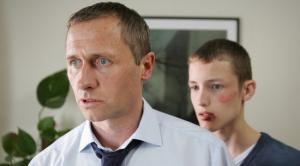 Highlights of this year's Film Festival will include the Glimmer Award for Best International Short which will see directors from around the globe vie for the prize of £1000 sponsored by World Trade Centre Hull & Humber, a hub for developing, promoting and facilitating international trade and investment. Included in the programme will be the UK premiere of Ian Strang's PIVOT a Canadian film that wryly deals with the notion of masculine competitiveness.
UK Filmmakers will also show the depth and strength of films made in this country with the Glimmer Award for Best UK Short supported by Hull Trains. Yorkshire talent will get a chance to shine and win £500 with the Glimmer Award for Best Yorkshire Short sponsored by Yorkshire Forward with films such as the World premiere of actor Kenny Doughty's directorial debut ME, YOU AND CAPTAIN LONGBRIDGE, a moving drama about a boy dealing with the reality of death. There will also be the Glimmer Award for Best Hull Short with a prize sponsored by The Mobile Point.

An industry weekend, which will provide masterclasses and workshops for those already working within the film industry and those who are merely curious, will be headlined by a BAFTA MASTERCLASS WITH SIMON ELLIS. Ellis, who was recently nominated for a BAFTA and won the Sundance Film Festival with his short SOFT, will talk about his career of making award winning short films and his forthcoming debut feature. After the masterclass Simon will present a programme of short films that have inspired him throughout his career. There will also be an opportunity to see SOFT in a programme of this year's ORANGE BRITISH ACADEMY FILM AWARDS NOMINATED SHORTS which also includes DOG ALTOGETHER, the directorial debut of Paddy Consindine which stars Peter Mullan. Other industry weekend highlights include ANATOMY OF A FILM in which Yorkshire based director and writer Sue Everett will be on hand to discuss the genesis of her latest film from initial idea to eventual screening and FILMS, FILMMAKERS AND FESTIVALS in which a panel of industry experts will be on hand to discuss how filmmakers can make the best use of the myriad Festivals on offer throughout the world.

Glimmer will also be proud to host a retrospective of the work of BEN RIVERS, a filmmaker who has worked predominantly in 16mm film, showing in international festivals, galleries and UK theatres. The programme will award winning films such as THIS IS MY LAND and his most recent work AH, LIBERTY! which was the recipient of the Tiger Award for Best Short at this year's prestigious Rotterdam Film Festival.

Other programmes to look out for include a season of INDIAN SHORT FILMS, a screening from PROPELLER TV, the world premiere of films created in association with CREATIVE PARTNERSHIPS and – in collaboration with the London Short Film Festival – the intriguingly titled DEATH TO SHORT TO FILM. There will also be plenty more programmes and events to be announced in the coming weeks when the full programmed is announced.

Glimmer Director (and Netribution editor) Laurence Boyce said:

"Glimmer will provide the same great varied programme that the Hull International Short Film Festival is justly famous for but with a new and more cutting edge attitude. The sheer breadth of films on offer alongside some incredible guests and events means that everyone, whether they be film buff, filmmaker or simple fan will discover a whole new world of film,"