Jonás and Alfonso Cuarón Launch new short film competition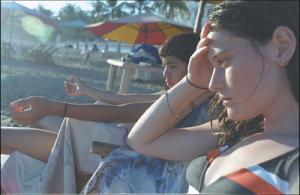 A contest by Alfonso 'Children of Men' Cuarón to accompany his son Jonás' debut feature Año Uña (pictured) has had its entry date extended to November 19. The competition is inspired by Año Uña's unique format made entirely from photographic stills, and calls for shorts no longer than 3 minutes made up of personal photos or stills from the film.
Full details can be found via www.anounacompetition.co.uk. The winner will have their short film shown and introduced by Alfonso Cuarón at a special screening of Año Uña at the Curzon Renoir on 29 November 2008. YouTube users will be able to choose their own People's Choice Award, which will also be shown at the special screening. Runners up will win Curzon cinema and LoveFilm subscription prizes.
It will be judged by: Jonás Cuarón, writer & director; Eireann Harper, producer; Alfonso Cuarón, executive producer and director of Children of Men, Y Tu Mamá También and Harry Potter and the Prisoner of Azkaban; Chris Coen, UK distributor and producer of Funny Games US; Darius Khondji, cinematographer of Se7en, Evita, The Beach and Funny Games US; and Tom Munro, fashion photographer of Madonna's Hard Candy. Further details from

Año Uña is a story of impossible love, written and directed by Jonás Cuarón and based on his girlfriend and producer Eireann Harper and brother Diego. Jonás was originally inspired by the film's format through Chris Marker's 1963 La Jetée, however unlike La Jetée, Jonas first took thousands of photographs and from them wrote the fictional screenplay.

Based on using the same technique as Año Uña, the short film competition will make competition packs downloadable via www.anounacompetition.co.uk which will provide guidelines for making short films either from personal stills or stills from the film, as well as key tips regarding copyright and where to upload films by 19 November. Shorts films can be made through any desktop editing package and will up loaded via YouTube - www.youtube.com/group/anounacompetition

Jonás Cuarón said of the new competition, "I hope that Año Uña will inspire new ways of filmmaking. I'm thrilled that this short film competition will open doors for filmmakers to play with new languages and demonstrate that the creative process of filmmaking can be more accessible than is often assumed."

Alfonso Cuarón said, "Año Uña shows how the younger generations are liberating cinema from the tyranny of formats. This competition hopes to challenge established conceptions of cinema and encourage new possibilities."
For further details please see www.anounacompetition.co.uk.