Photojournalist killed while filming political demonstration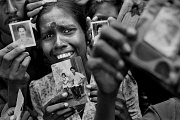 From BoingBoing - Award-winning photojournalist Martin Adler was killed in Mogadishu this week while filming a political demonstration for Channel 4 News. He was shot at close range by a single, hooded gunman. Mr. Adler often covered conflict zones alone, filling the multiple roles roles of writer, cameraman, producer, and correspondent.
Link to Photo District News story, here's a statement by Reporters Without Borders, here's a Washington Post piece about an ongoing inquiry into the attack. Link to statement on the website of photo agency Panos Pictures, and here is a small sample of his extensive body of work, via Panos.
Above - an image shot by Mr. Adler in 1996 of internally displaced persons in Sri Lanka seeking lost relatives. Link to details.