"We're coming down to the ground" as Slumdog Sweeps Up Oscars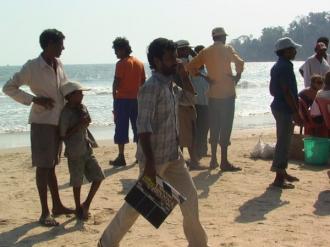 I've been searching around trying to find a feed of the Oscars. Finally find an unofficial one on Justin.tv and arrive just as Heath Ledger's name is announced. There's wet eyes all over the place and for once it seems genuine.
There's so much I would like to say about Slumdog Millionaire, but like all my thoughts relating to India since getting back in March last year, I've not been able to put them down. Other than the few bits I wrote here that ended up in the Goa Herald (and these pics), it's something I guess I'll express when the time is right. In the meantime it's tempting to just talk about the more easy (but rarely discussed) subject of the business issues around Slumdog.

I mean, forget Shane Meadow's Eurostar bankrolled Somers Town, the 'three muskateers' of director Boyle, writer Beufoy and exec producer (and Celador chair) Paul Smith have pulled off the remarkable whammy of taking a multi billion dollar entertainment franchise and its cash, and building an Oscar winner around it. For those, like me, who question how much sponsor funded movies will erode the quality of feature films, a bag of shiny awards makes a pretty strong argument about what is possible.
Tho it seems more likely that it's the film's combination of internationalism and hope in the face of poverty - which chimes with both the economic mood and Obama's 'new era of international dialogue and intelligence'  - than the film itself which is a little stereotyped and simplistic - and quite heavily criticised in India. Rumour has it Fox planned to send the film straight to video. Nevertheless, to see the country and her people again on the big screen, shot brilliantly, in a format that is accesible and entertaining to lots of people, and to know this is the Academy's film of the year does, ultimately, feel good and right. And Celedor backing or not, it's still a remarkable success for a film that was funded and produced by the UK yet never sets foot here.
Watching Resul Pookutty pick up one of India's five Oscars of the night (for Sound Mixing) just now was also rather special.
Best supporting actress: Penelope Cruz - Vicky Cristina Barcelona
Also nominated: Amy Adams - Doubt; Viola Davis - Doubt; Taraji P Henson - The Curious Case of Benjamin Button; Marisa Tomei - The Wrestler
Best original screenplay: Milk
Also nominated: Happy-Go-Lucky; Wall-E; In Bruges; Frozen River
Best adapted screenplay: Slumdog Millionaire
Also nominated: The Curious Case of Benjamin Button; Doubt; Frost/Nixon; The Reader
Best animated feature film: Wall-E
Also nominated: Bolt; Kung Fu Panda
Best animated short film: La Maison en Petits Cubes
Also nominated: Lavatory - Lovestory; Oktapodi; Presto; This Way Up
Art direction: The Curious Case of Benjamin Button
Also nominated: Changeling; The Dark Knight; The Duchess; Revolutionary Road
Costume design: The Duchess
Also nominated: The Curious Case of Benjamin Button; Australia; Milk; Revolutionary Road
Make-up: The Curious Case of Benjamin Button
Also nominated: The Dark Knight; Hellboy II: The Golden Army
Cinematography: Slumdog Millionaire
Also nominated: The Curious Case of Benjamin Button; Changeling; The Dark Knight; The Reader
Best live action short film: Spielzeugland (Toyland)
Also nominated: Auf der Strecke (On The Line); Manon on the Asphalt; New Boy; The Pig
Best supporting actor: Heath Ledger - The Dark Knight
Also nominated: Josh Brolin - Milk; Robert Downey Jr - Tropic Thunder; Philip Seymour Hoffman - Doubt; Michael Shannon - Revolutionary Road
Best documentary feature: Man on Wire
Also nominated: The Betrayal; Encounters at the End of the World; The Garden; Trouble The Water
Best documentary short subject: Smile Pinki
Also nominated: The Conscience of Nhem En; The Final Inch; The Witness - From the Balcony of Room 306
Visual effects: The Curious Case of Benjamin Button
Also nominated: The Dark Knight; Iron Man
Sound editing: The Dark Knight
Also nominated: Iron Man; Wanted; Slumdog Millionaire; Wall-E
Sound mixing: Slumdog Millionaire
Also nominated: The Curious Case of Benjamin Button; The Dark Knight; Wanted; Wall-E
Film editing: Slumdog Millionaire
Also nominated: The Curious Case of Benjamin Button; The Dark Knight; Frost/Nixon; Milk
Best original score: Slumdog Millionaire
Also nominated: The Curious Case of Benjamin Button; Defiance; Milk; Slumdog Millionaire; Wall-E
Best original song: Jai Ho - Slumdog Millionaire
Also nominated: Down To Earth - Wall-E; O Saya - Slumdog Millionaire
Best foreign language film: Departures - Japan
Also nominated: Revanche - Austria; The Class - France; The Baader Meinhof Complex - Germany; Waltz With Bashir - Israel
Best director: Danny Boyle - Slumdog Millionaire
Also nominated: Stephen Daldry - The Reader; David Fincher - The Curious Case of Benjamin Button; Ron Howard - Frost/Nixon; Gus Van Sant - Milk
Best picture - Slumdog Millionaire
The Curious Case of Benjamin Button
Frost/Nixon
Milk
The Reader
Best actor - Sean Penn - Milk
Richard Jenkins - The Visitor
Frank Langella - Frost/Nixon
Mickey Rourke - The Wrestler
Brad Pitt - The Curious Case of Benjamin Button
Best actress - Kate Winslet - The Reader
Anne Hathaway - Rachel Getting Married
Angelina Jolie - Changeling
Melissa Leo - Frozen River
Meryl Streep - Doubt