Arts Beyond the Classroom brings parents and children together to explore art and blog about it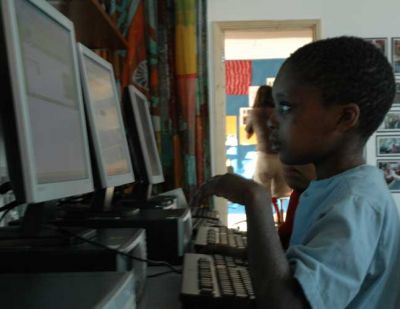 It's easy to talk about the digital revolution and the benefits of giving everyone a free and open platform for self-expression if the only people who use the best of the webs tools are contained to one social or economic group. I've previously trained people how to publish online and use CMSs, but I'd never had to teach people to write a blog who had not only never blogged before, but possibly never written publicly, or owned an email address.
"I think what i have learnt the most about this project is.......wait for it....is SELF BELIEF. If an artist or anyone, writes, sings, dances or sculpts etc and believes they have done a good job, well thats all that matters....i have doubted myself in the past, lacked believing in myself and what i can achieve...."
Our first visit to the Tate Modern by Alison and Keon
One of the more enjoyable projects of recent years Netribution has worked on, Arts Beyond the Classroom (artsbeyond.org) is a pilot project from A New Direction, the new name for Creative Partnerships London, in association with two primary schools in inner London with a reputaiton for arts and creativity - and creatively driven by Eelyn Lee Productions.
20 children and their parents in both schools were taken to experience London's cultural delights, including film at the BFI, art at Tate Modern, dance at Sadlers Welles and music at the Royal Festival Hall (and the oft forgotten museums, via St John Soames). The trips were accompanied with workshops for the parents and children, and both parties were encouraged to blog about their experience on a group blog Netribution set up for the project.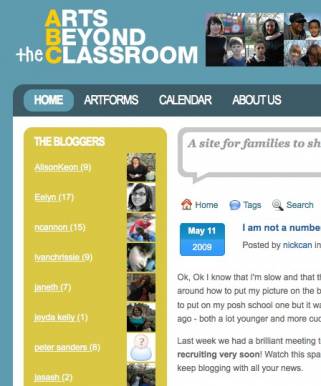 What was originally intended to be a way for the project funders to track the success of the pilot scheme, became a major output in itself, with some (perhaps 10%?) of the bloggers really taking to it and both finding a platform to express themselves honestly, and often a unique style or format.
The process was filmed and edited by
Eelyn Lee Producitons
, one of London's more acclaimed film and video in education delivery organisations. Here's a few of their videos for the project below, including a roasting of the Royal Festival Hall's classical concert for kids, with
more at Vimeo
(which I set up before I bothered to
read the license agreement in full
- doh!).