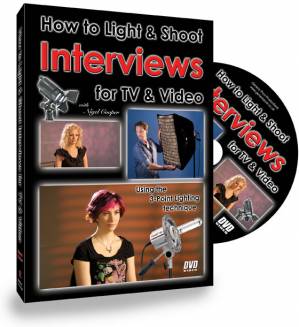 Television interviews for set-piece programmes somehow always get everything just right; the framing of the subject on screen, the facial modelling that gives definition to the features without making the face into something more like a silhouette. In the best interview examples, the lighting camera operator's skill appears to put an apparently 3-D image on to a 2-D television screen – and in HD too.
Nigel Cooper is a lighting camera operator who regularly does all this and more, to get quality interview images. Video images looking as rich as film, where the viewers eye is focused on the perfectly natural-looking subject, concentrate full attention on what the subject has to say, which is the whole point of an interview.
If you aspire to upping your camera work to this level, you need this instructional DVD as much as you need hard and soft lights, gels and gobos. It will take you to where you want to be within 30 minutes, followed by practice from you and a patient model.
It is a slick, but easy-to-follow production, in sensible steps presented by Nigel Cooper himself. The presentation style never patronises and a clear delivery at a sensible speed, allows the viewer enough time to absorb quite intricate details ata comfortable rate.