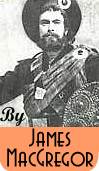 Published January 26th 2001

By James MacGregor

Film Legend Outed As Fake Scot
A legendary Hollywood film Scot, who had a plaque unveiled to honour his imagined birthplace as part of the Centenary Of Cinema just four years ago, has been unmasked as a fake by librarian Lorna Mitchell.

Oscar-winning actor and director Donald Crisp, famous for his Scottish accent and said to be Hollywood's greatest Scot, had a career that spanned 50 years and 400 films until his death in 1974. It turns out that despite his being credited with shaping Scotland's soft-focus romanticised Hollywood image, he had almost no Scottish connections and almost certainly developed a Scottish accent to help his career.

Among the films Crisp is fondly remembered for, are his starring role in Lassie Come Home as well as his part in the 1960's Disney classic, Greyfriars Bobby, the "true" story of the dog that refused to leave his master's final resting place in an Edinburgh graveyard. His Oscar was awarded for How Green Was My Valley.

Although the films he appeared in may have been sentimental, it seems proper recognition for Crisp's talent should be as a master of Brando or De Niro-style method acting. Crisp spoke with a soft Scottish burr and maintained throughout life that he was born in Aberfeldy. After years of residence in Hollywood, he used to visit the town in later life, when he was reported as saying "When I lived there as a boy, my family was so poor we couldn't even afford sugar." Crisp's was a convincing performance and it must have been arduous at times. It was a performance without malice and he kept it up faultlessly for over half a century, fooling even his imagined countrymen.

The Scottish Film Council honoured Crisp and his reported birthplace with a commemorative plaque as part of the Centenary Of Film celebrations, which was unveiled by Scottish entertainer Jimmy Logan four years ago in Aberfeldy's main square. "He used to come to Aberfeldy for a quiet holiday," Logan says. "I don't suppose anybody realised who, or what he was."

The truth about Crisp, that he was born in London, was discovered by a local librarian researching him. There was no mention of him in census records held at the A.K. Bell library in Perth, so Lorna Mitchell decided to cast her net wider, starting with his death in California in 1974. That certificate listed his parents as a James Crisp and Elizabeth Christy, his birthdate as July 27th 1882 (two years later than most record books show) and his place of birth as England. She also discovered from the nephew in California who registered the actor's death, that Crisp's sister Eliza Matilda Crisp (the Californian nephew's grandmother) was born in Bow, London and that Donald Crisp's real name was George.

Lorna Mitchell could find no trace of a George Crisp in Scottish birth records, but there was a George Crisp registered in 1882, born in Bow. Sadly for supporters of Crisp's Caledonian credentials, the names on the Bow papers match those on the California death certificate. Crisp, the quintessential kailyard screen Scot, is outed as a Cockney.

Knowledgeable film fans in Scotland are liable to forgive him. Crisp promoted a fond image of Scotland across the world's screens. Although he concealed his true identity, that was a fairly common trait in Hollywood, where stars liked a touch of the exotic in their biographies. Errol Flynn maintained he came from a distinguished family in Ireland, whereas truthfully, he was an Aussie, who came from Tasmania. Merle Oberon claimed she came from Tasmania, but only to conceal the truth about her Anglo-Indian birth, which could have proved controversial. For a film émigré, struggling to make his way in Tinsel Town, films about Bonnie Scotland might have held more appeal and better prospects, than films about Bonnie Bow.

There remains the question of what should happen about the commemorative plaque in that main square in Aberfeldy. It was one of a series of commemorative castings commissioned by the Scottish Film Council, one of the predecessor bodies that amalgamated to form Scottish Screen. Purists might argue that a plaque to George Crisp really ought not to be found there, but in some regenerating London borough. This however is not a plaque to George Crisp, but to Donald Crisp, whose screen persona was legendary and so it seems, was his lifelong performance. Jellied eels and pearly queen, he was not, enamoured of his adopted land he most certainly had to be. Hollywood is the very stuff of legend, so Donald Crisp of Aberfeldy has to be forgiven. The plaque should stay.
to submit a story from the North, please email james@netribution.co.uk