Sydney Pollack : 1934 - 2008 : interviewed in 2001 by Anthony Minghella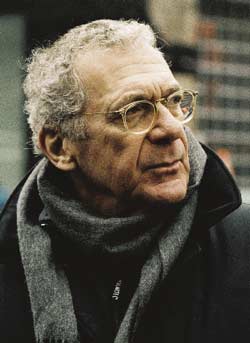 Sydney Pollack, director, actor and writer, has passed away from cancer aged 73, and surrounded by his family. Link to LA Times obituary , Wikipedia page, IMDB page.
Pollack was a friend and business partner to Anthony Minghella, who also sadly passed away earlier this year. Back in 2001, filmmaker and blogger Tim Clague caught the two legends in conversation at BAFTA, republished below.
SYDNEY POLLACK INTERVIEWED BY ANTHONY MINGHELLA
Monday 29 January 2001. by Tim Clague
I was privileged recently to be invited to an exciting event held at BAFTA in London. Following their decision to move the Film Awards to a position before the Oscars, BAFTA have launched, what they hope will be, another high profile event, The David Lean Lecture. This year's inaugural event featured Sydney Pollack being interviewed by his friend, colleague and now business partner, Anthony Minghella. I am sure that neither of these filmmakers need an introduction to most readers, but as a quick recap...
Sydney Pollack is an American filmmaker who has worked on the fringes of Hollywood for all of his career, never part of the 'system' nor fully independent. As a director he started in Television (The Fugitive and Alfred Hitchcock presents) before moving across in films. Highlights include The Way We Were (1973), Three Days of the Condor (1975), Tootsie (1982), Out Of Africa (1985) and The Firm (1993). He is a trained actor, from the New York Actors Studio, and has played characters in Woody Allen's Husbands and Wives (1992) and Kubrick's Eyes Wide Shut (1999) amongst others.
Anthony Minghella is an English writer/ director. Again his background is television, as a writer on Grange Hill. He is most famous for the two recent successes The English Patient and The Talented Mr. Ripley.
Some of the discussion, involving questions from the audience, was, as you might expect, anecdotal and unsurprising. For example describing working with Kubrick as "frustrating, yet fascinating". However several of his points really hit home to me as a film maker and I will attempt to convey these on with the same enthusiasm as he generated in me.
HIS BIG BREAK:
Sydney's early career as a director was largely guided by an actor that can be described as a Hollywood great. After landing a job as an acting coach to three young actors on a film in LA, the young Sydney Pollack found the star of the film was one Burt Lancaster. While Burt used to tease this young New York trainer he obviously saw that he had some potential and it was Burt himself that got Sydney his work in Television. In discussing this anecdote afterwards the general feeling was that he had got 'a lucky break' or 'a guardian angel'. To me however the moral of the story can only be that his work in New York was good enough for him to be sent to Hollywood. And his work in Hollywood was such that he stood out enough to impress an actor that had worked with the best.
STORY STRUCTURE:
For a director that isn't also a writer Sydney Pollack talks a lot about scripts and their structure. His main concern is what he calls the intellectual idea. He feels that there must be, at the very core of the script, an idea, theme or question that he wants to explore. He admits that this can seem a very dry way to approach artistic material but that the filmmakers job is to take this inaccessible idea or discussion and to make it approachable and enjoyable. His analogy was of the construction of a sculpture. Ensure that the metal framework is solid and correct before you add the flesh on top. His case study was from his early work on the film that would grow into Tootsie. The first few drafts were what he described as "College dorm humour" involving a male tennis player who is forced to compete in the women's competition to get ahead. A few drafts later this had changed to the more familiar scenario of an actor who secures an actress's part. However it was only when Sydney was talking to the writer, for several days, that they came upon the idea that for the central character "being a woman had made him more of a man". Using this central theme the script fell into place. It could still contain that humour and comedy, including gags about fake breasts, but it had a solid backbone behind it. I have already started to incorporate this style of thinking in some rewrites I am doing at the moment and I think that it helps enormously. I guess the other lesson to be drawn from this experience is that the director working with the writer can produce the strongest scripts - given freedom and time.
ON CHARACTERS:
When he is weighing up the merits of a particular screenplay Sydney Pollack uses one rule above all else. Is he going to enjoy being with these characters for two years? Or at least does he understand them and their troubles or concerns. If not then he passes on the piece. While this attitude may seem harsh I suppose that at least it ensures that a project gets his full effort - would it have got a film like American Beauty made though?
ON WORKING WITH ACTORS:
Contrasting again with Kubrick's method is Pollack's angle on capturing the performance. His method of non-rehearsal is probably the result of him being an actor himself. Over rehearsal breeds familiarisation he states. He was at pains though to point out that many hours should be invested in discussing all angles on the story and the attitude of the performance with the actor, but never directly rehearsing the scene.
All in all it was a fascinating talk. I believe that these more informal talks by people that have actually worked on pieces that you respect will always be more useful to film makers starting out than the more evangelical lectures that are on offer. The interview was recorded on video and I hope that it will be broadcast sometime in the future and I hope that the David Lean Lectures will continue.