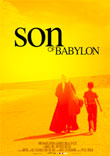 While BAFTA was making history on Sunday with all four directing awards going to women, Yorkshire based Mohamed Al Daradji's Iraq set feature follow-up to Ahlaam became the only British film* to take any awards at the 60th Berlinale. Following its success in Sundance, Son of Babylon - a road movie that looks, with 'humor and lightness' at reconciliation and healing in post-Saddam Iraq - took the Amnesty International Film Prize Award and The Peace Prize Award.
Al-Daradji said "I would like to thank the juries who are honouring SON OF BABYLON with such prestigious awards for the film and my country, Iraq. I would like to dedicate this award to our IRAQ'S MISSING Campaign. I hope through these awards we will  be able to give answers to my main character Shehzad Hussen who for the last 22 years has been searching for her husband and also for my sister whose husband disappeared 5 months ago."
During the Berlin Film Festival, 'SON OF BABYLON' had five fully sold out screenings with standing ovations, resulting in the film being in the top five for the audience choice award in the Panorama section. The producers of the film have pledged that both prize awards, which total 10,000 Euros, will go directly to the IRAQ'S MISSING campaign as they aim to communicate the extent of the genocide.
*actually an 8-party UK / Iraq / France / UAE / Eqypt / Palestine / Netherlands co-production