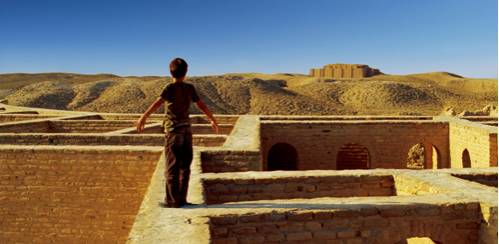 Back in March during the battle between The Hurt Locker and Avatar at the Oscars, much-loved political theorist Zizek waded in with a comparative review of the politics of the two films. His conclusion was that James Cameron's film had been the best attack on the military-industrial complex and US corporate hegemony. Kathryn Bigelow, on the other hand, he argued, legitimised the Iraqi invasion and the actions of American soldiers by normalising them and their life - the Hurt Locker is not a pro-war film, but in making the protagonist soldiers sympathetic it inadvertently supported the politics behind them being there.
To continue this argument thru then, to follow everyday Iraqis in the aftermath of the invasion on film, as Iraqi-born Mohammed Al Daradji does in Son of Babylon, is to support the wider views of the Iraqi people and those one would expect to be hostile to an invasion. Here, then, is the first big revelation of the film. While the American soldiers are called pigs by one character and loom in the background, hovering overhead, the villain threading through this tale is the ghost of Saddam and his Ba'athist party. Indeed, in one of the many lighter moments in the film, it's revealed that 'talking to Saddam' is a way of saying you're going to the toilet. And as the film unfolds and we move from wrecked cities to a giant prison complex to the first of many mass graves, we begin to understand why. As we are told at the end of the film, some one million Iraqis have gone missing in the last 40 years, with between 150,000 and 250,000 dead uncovered so far in mass graves.
In short, the film is a devastating, breathtaking masterpiece. With such heavy subjects at its core this would always be a powerful film. But Al Daradji and his team weaves a work of great drama built upon faultless performances and world class cinematography.
We start on an empty road in the middle of the desert. A young boy and his weathered and wise grandma wait in the midst of nothingness. It's a brilliant start which pulls us into the narrative with the deft hand of a skilled storyteller. What unfolds is a road movie, and - like the Illusionist - a child / senior relationship - things that we have seen often before on screen. But they travel across a landscape that we have not seen. Perhaps at the edges of some of war films, but unlike most of these, and almost all films on Iraq to date - this film does not involve the military; there is barely one line of dialogue from a soldier. Instead this is a film about searching, not only for a missing son and father, but for answers, for an explanation and for forgiveness. It's also, somewhat, a search for meaning about death amidst God's seeming indifference.