Free pre-release screening of Chet Baker Jazz doc
This in from Joe Pearshouse at Raindance: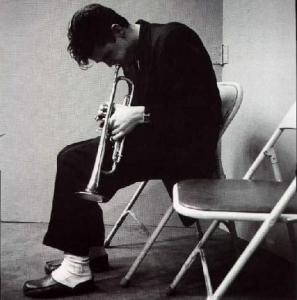 RAINDANCE FILM CLUB : Chet Baker Screening
What: LET'S GET LOST
When: May 21
Where: The Horse Hospital, Colonnade, Bloomsbury (behind Russell Square tube station) WC1N 1HX.
How much: FREE
RAINDANCE FILM CLUB presents LET'S GET LOST, a documentary about jazz legend Chet Baker.
On June 6, the Oscar-nominated LET'S GET LOST will be released in UK cinemas. Directed by internationally renowned photographer/filmmaker Bruce Weber, Let's Get Lost offers a powerful and uniquely personal insight into the life of the late jazz great Chet Baker.
You can see the film two weeks early at this exclusive Raindance preview screening on May 21 at the Horse Hospital.
Travelling with the elusive jazz vocalist and trumpeter Chet Baker, Weber weaves together the life story of a jazz great. The film uses excerpts from Italian B movies, rare performance footage, and candid interviews with Baker, musicians, friends, battling ex-wives and his children in what turned out to be the last year of his life.
Winner of the 1989 Critics Prize at the Venice Film Festival and nominated for an Academy Award, Let's Get Lost has become an important document in the career of the filmmaker on the life of a jazz legend.
Since its release in 1989, Let's Get Lost has introduced a whole new generation of jazz enthusiasts to the timeless talent of the late Chet Baker (trailer after the link)
LET'S GET LOST, also the name of a long out-of-print Baker tune, aptly describes the driving force of this man and his music. His James Dean looks and cool sound set Baker apart from the other musicians of his time but his ongoing issues with a narcotic addiction also gave a generation of jazz fans a Doomed Youth of their very own.
Chet Baker's life plays out like a Kerouac creation, as did his death (he fell out of an Amsterdam hotel window on Friday the 13th 1988, age 58), but out of his life came some of the most lyrical trumpet playing and jazz vocals ever heard.
*Please note, the doors open at 7pm, screenings start when the venue is full. If you come late, you may have to stand. Film Club is first come, first serve so there's no need to RSVP.
For more information contact Joe Pearshouse : 020 7287 3833 / This email address is being protected from spambots. You need JavaScript enabled to view it.