'Billy Elliot' is the first big screen feature film to focus on the mining communities of County Durham and amongst the first to unashamedly expose audiences to the dialects and lifestyles of modern day working class people in the North East of England. It is a heart-warming tale of a young lad who surreptitiously swaps his boxing gloves for ballet slippers with some fairly predictable reactions of parents, family and friends.
Jamie Bell (below), who plays the part of Billy, was discovered
at local auditions in the North East and is destined for fame through this unforgettable performance. Julie Walters is loveable in her role as the chain smoking ballet instructor Mrs Wilkinson and Jean Heywood, as Billy's grandmother, nearly steals the show several times. Gary Lewis (My Name is Joe) puts in a very credible performance as Billy's widower father. Stephen Daldry makes this film shine using another brilliant script from writer Lee Hall.
Given the world-wide coverage of the 1980's miners strike, and its political impact on the United Kingdom, it is perhaps surprising that until now there has been no reference to it in feature films. Though 'Billy Elliot' never attempts to be a political statement, it boldly uses the potent Miner's Strike as the backdrop to the story but remains neutral throughout.
The film is generously peppered with visual and verbal humour, but also manages to deliver many poignant jabs and pulls repeatedly at heartstrings en route to its conclusion. This film is capable of making adult audiences laugh and cry at the same time. At the screening I attended there were few dry eyes in the cinema, not that I had much time to look around, I was far too engrossed in the story.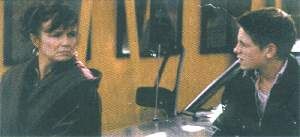 Because the story addresses the sensitive subject of homosexuality, strong language and violence, it has been necessary to give it a 15 Certificate in the UK. This is a shame because although these aspects of the film are an integral and vital part of its success, they prohibit children much younger from enjoying this enthralling, entertaining and educational story.
Billy Elliot (formerly called Dancer)
dir: Steven Daldry
2000, UK